Embrace Safety with the E911 Feature in Omnivoice
In our rapidly advancing, digital era, effective and dependable communication can often be the determining factor between a critical delay and timely assistance. Omnivoice, as an advanced VoIP provider, acknowledges this reality and has seamlessly integrated the E911 feature into its service. This feature is aimed at providing users with instant access to emergency services whenever the need arises.
What is the E911 Feature?
Enhanced 911, also known as E911, is a critical function that should be present in any telecommunication system. It enables users to dial 911 directly from their Omnivoice number, while simultaneously providing emergency dispatchers with the caller's registered location. This means that during times of crisis, help can reach you quickly, even if you're unable to verbally communicate your location.
How E911 Works with Omnivoice
Omnivoice's E911 feature is designed for both immediacy and accuracy. After activating the E911 feature on your Omnivoice account, your registered address is linked to your phone number. Therefore, when you dial 911, the system automatically relays this location information to your local Public Safety Answering Point (PSAP). This capability to directly connect to emergency services via Omnivoice ensures your call for help is not only immediate, but also pinpointed accurately to where assistance is needed.
Benefits of E911 in Omnivoice
Apart from its core function of offering a direct line to emergency services, Omnivoice's E911 feature provides several other benefits:
Easy Setup: Your emergency information will be one of the first things Omnivoice will ask you to enter. E911 is impossible to miss – you will not be able to use Omnivoice unless the emergency information is provided, prioritizing your security at all times.
Safety First: With E911, your location information is immediately available to emergency responders, facilitating a quicker and more efficient response.
Seamless Integration: E911 integrates effortlessly with Omnivoice's other features, providing a comprehensive communication solution.
Reliability: Omnivoice's robust system ensures the E911 feature operates consistently, offering dependable access to emergency services.
Setting Up E911 in Omnivoice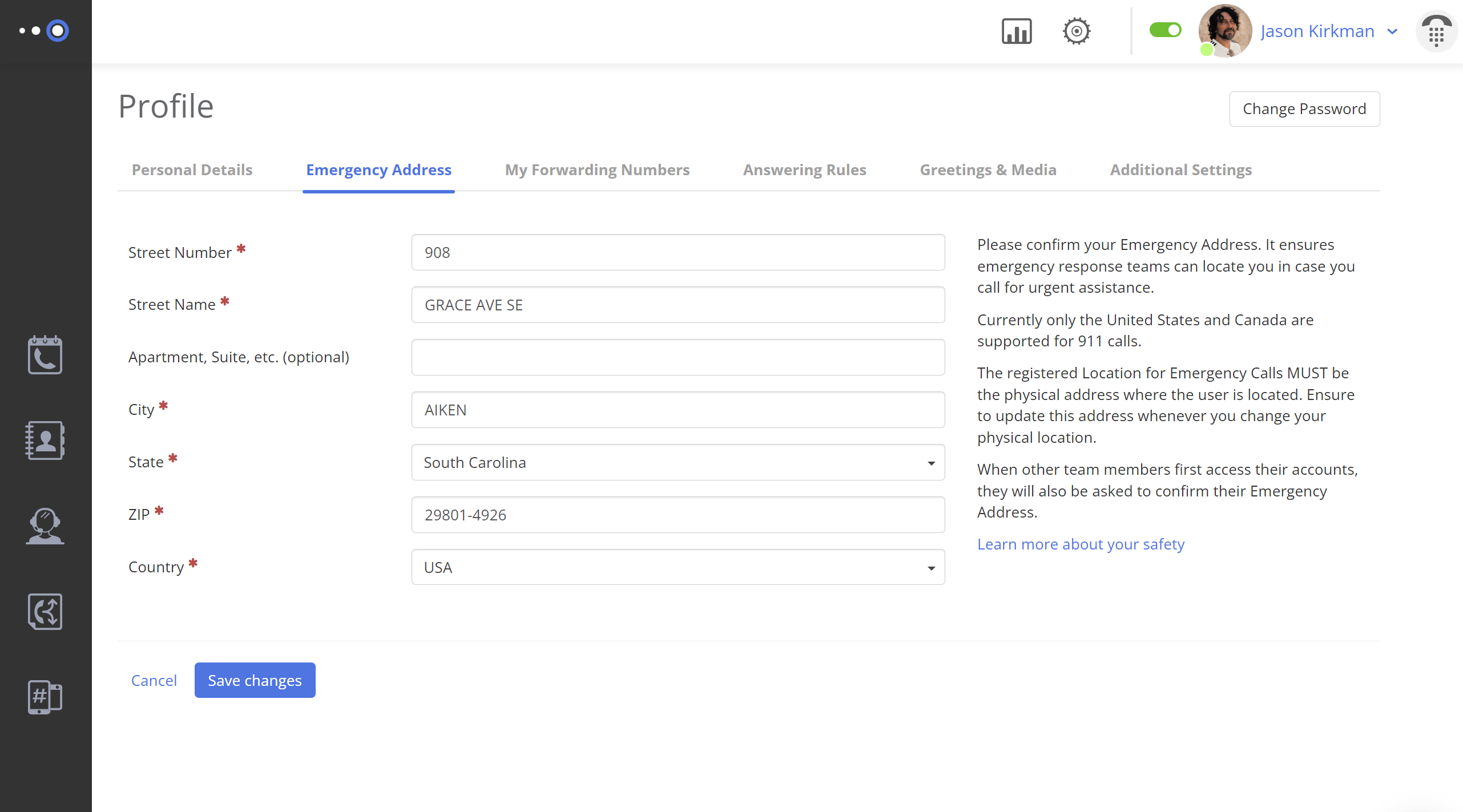 Omnivoice E911 Feature
Open Omnivoice: Launch the Omnivoice service, and sign in to your existing account or register for a new one.
Go to "Profile": In your profile settings, find the "Emergency Address" tab.
Set up your 911 location: Provide the street address, city, and state where you plan to use the service. It's crucial to keep this information accurate and current.
Verify your address: Double-check the correctness of your Service Address during setup, and update it whenever there are changes to your location or VoIP number transfers.
Know the limitations: Stay informed about situations when the emergency service may not function, such as during Internet or power disruptions, suspension of your account, or when making calls outside of the United States or Canada.
Double-check: Use the number 933 to ensure your emergency address is accurately displayed for emergency service operators. Do not use the 911 number for this test; it is solely reserved for real emergencies.
Omnivoice's E911 Feature: A Critical Addition to Your Communications
In today's digital world, it's essential to utilize technology to ensure safety. Omnivoice's E911 feature serves as a testament to this, providing a critical link between you and emergency services. Whether you're a small business owner, an entrepreneur, or an individual user, the E911 feature in Omnivoice offers you the peace of mind that help is only a dial away.