Caller ID is a highly useful feature for figuring out if it is a personal call or a business call.
Any inbound business call will display your company name instead of the caller's number. This instantly shows you if it's a business or personal call.
To set inbound calling (receiving calls) to show your business number, go to the "Numbers & Widgets" page on your account.

Click "Call Display Control". Then Enable or disable the option to your liking.

Head on over to the web panel and go to the Numbers and Widgets tab.
To add a number:
Click on 'Add local number' if you would like to add more numbers to your account.

A window with available toll free or local numbers will open. Select a number and confirm. This will now be the main number on your account by default, but you can create separate rules for it (for example, if you want to use another greeting).

Click on Port in Your Number if you want to port in your existing number.
Learn more > How to port in your number.
Auto-Attendant, also known as IVR (Interactive Voice Response) allows callers to interact with a phone system via their phone's keypad. You've definitely encountered them before, probably in the form of "Press 1 for Sales, press 2 for Support and press 3 to leave a voicemail."
In this article we cover:
What is IVR?
Interactive Voice Response (IVR) is designed to:
Greet callers
Deliver necessary information
Forward calls to the appropriate extension
Take human error out of the system
How can that help business?
IVR systems for small business help make sure calls coming in to your company get routed fast and efficiently, often without even needing a receptionist (or fewer than you otherwise would).
The systems aren't just cold, lifeless robots either, as you can upload your own personal greetings to show your company's personality and relay important info. This efficiency will give you a professional look and your customers a better calling experience.
How does it work?
The information playback menu starts the call (Press 1 for Sales, Press 2 for Support, etc.), and then forwards it to the proper destination using a routing system.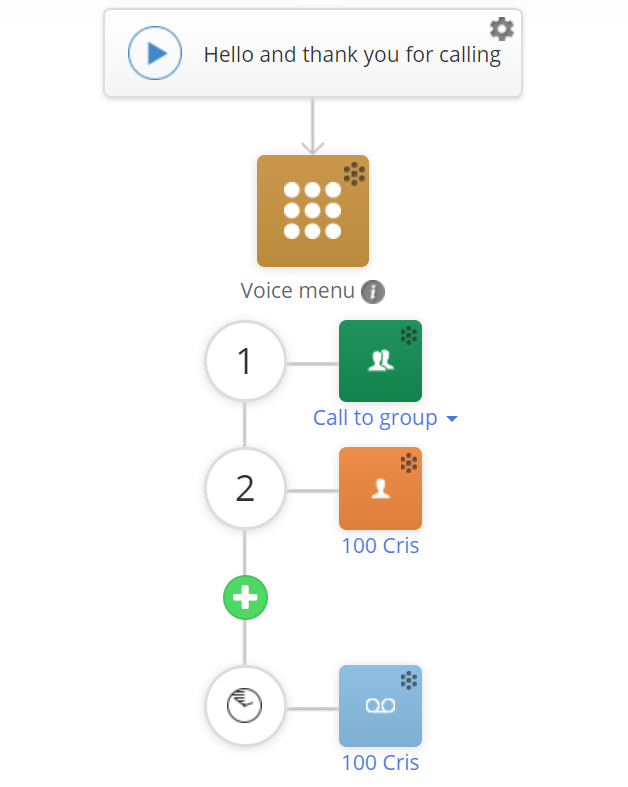 Most IVR systems designed for SMBs also contain a dial-by-name directory. This allows a caller to dial the first name, last name, or full name of the person they need and the system will automatically forward the call there.
If a call goes to a group, the Automated Call Distribution determines who gets the call first using 1 of 4 distribution methods (which you can select and change at any time).
Running multiple auto-attendants on an IVR system will allow you to handle things like:
How to enable IVR
Go to "Call Flows."
Click on the "Actions" block.
Select "Enable Voice Menu."
Record your own greeting for voice menu and a media prompt for an incorrect input.
Select the desired actions for numbers 0 up to 9.
Select an action should a timeout occur (if a caller does nothing for a long time).
Save changes.
Omnivoice wants to give you the power to shape your business' future- and that means the power to shape how you receive calls!! In the call flow section of the Omnivoice web panel, you'll find nine call routing different possibilities, after hours and greetings have been set. One of those, and the focus of this article, is the Call to Group setting. Call to Group comes in handy when you can separate your staff into at least two departments, like Sales and Tech Support.
To get there, open up your web panel, and click on the Call flow section. On whichever call tree you'd like, click the action menu (the seven dots, circled below), and then the green icon.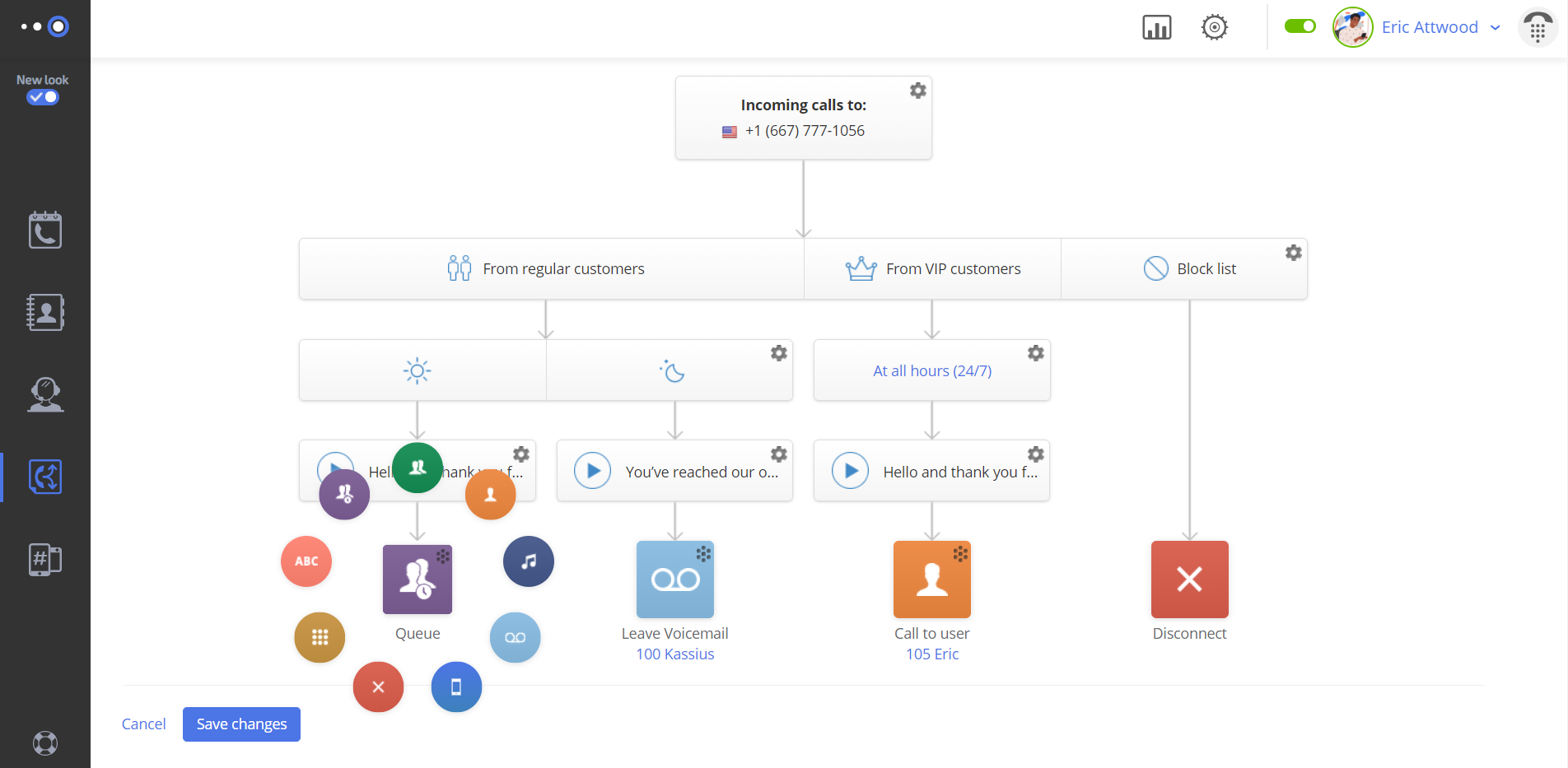 You'll get a pop-up, which is pictured below. As we said above, Omnivoice does give you flexibility- which means you have a lot of options here!!
Let's start with the most obvious one- adding a new group. To add a new group, click the 'Add group' button. There, you can select from your available groups.
For each group you create, you may then customize the voice greeting. As with other voice greetings in the web panel, you can easily upload your own, either using a file from your computer, from your phone, or create a new one via the voice studio.
As it's "Call to Group," and multiple people will probably be in whichever group you pick, you can chose three ways of contacting said group- either sequentially (which means one after another will be called until someone picks up), simultaneously (all numbers will be called, and whoever picks up first will complete the call), or Round Robin (the first call goes to the first person on the list, the next to the next person, etc.).
If there is no answer, you can change how the call is handled- you can have it automatically disconnect, call to another user (which you can of course set), play audio, leave a voicemail, or call any phone number.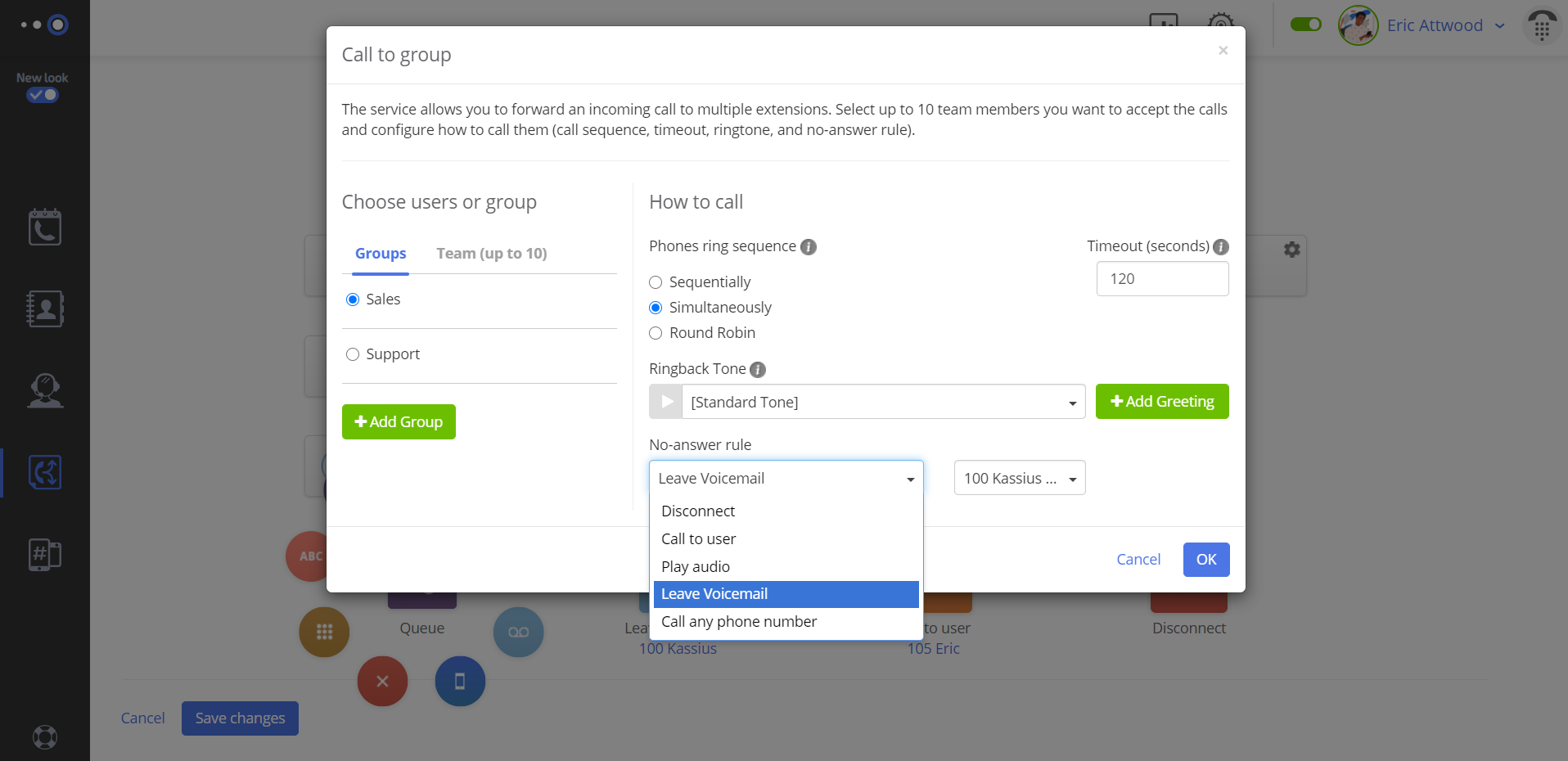 Customers are going to call your business number at all times of the day — including at night and on weekends. If you're a small business, you need to be flexible enough to handle these calls at any time. Now of course, that's not really possible in a literal sense- there are going to be times when even the most committed business owners just can't get to the phone. The solution is to set up business hours and rules for handling incoming calls during them, as well as to route calls received during non-business hours to a voicemail or to a specific phone line.
Omnivoice's web panel gives you this necessary flexibility and makes it straightforward to easily set and alter your operating hours. You have multiple choices when it comes to doing so: you can set specific times when an after-hours call should be forwarded (and to whom it should be forwarded to!), or you can simply send the caller straight to voicemail. It's all up to you!
How to configure your business hours
Go to "Call Flows."
Click on the "At all hours (24/7)" block.
Select the "Have Business Hours" option.
Define your business hours and holidays as needed. Click "OK."
Your call flow now has 2 parts — business hours and after hours.
Select your greetings and an appropriate method for call handling. For instance, you can forward all calls after business hours to voicemail.
Save changes.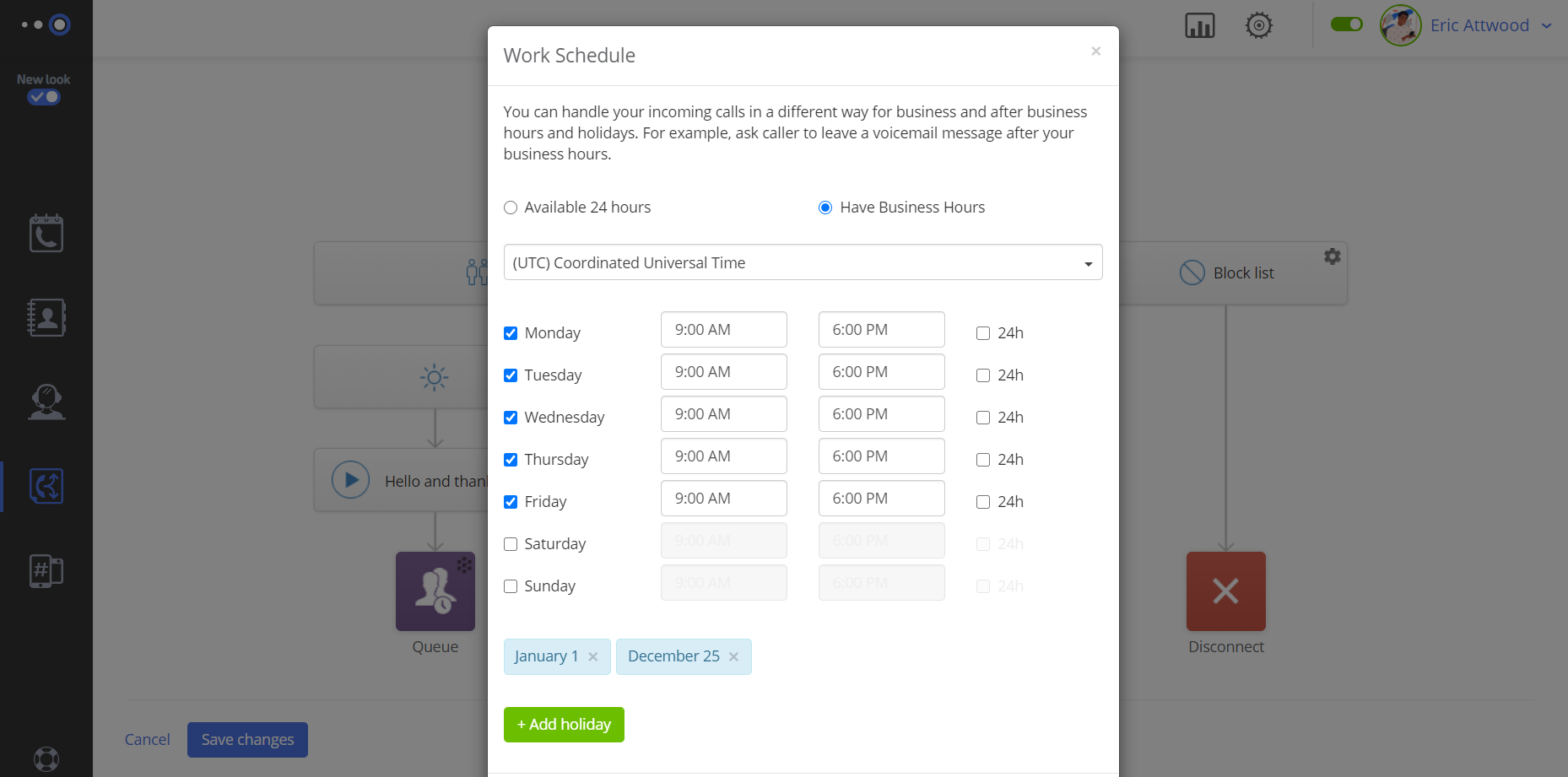 Note: Click on the "Schedule" block and select the "Available 24 hours" option to reset this option.
How to set a call flow
Click on the Call Flow icon. From there, click on "Incoming calls to…" and check off the numbers you want this call flow to apply to.
The default call flow will take your callers through a voice greeting and will then forward the call to the main user.
However, there are other call handling options you can choose.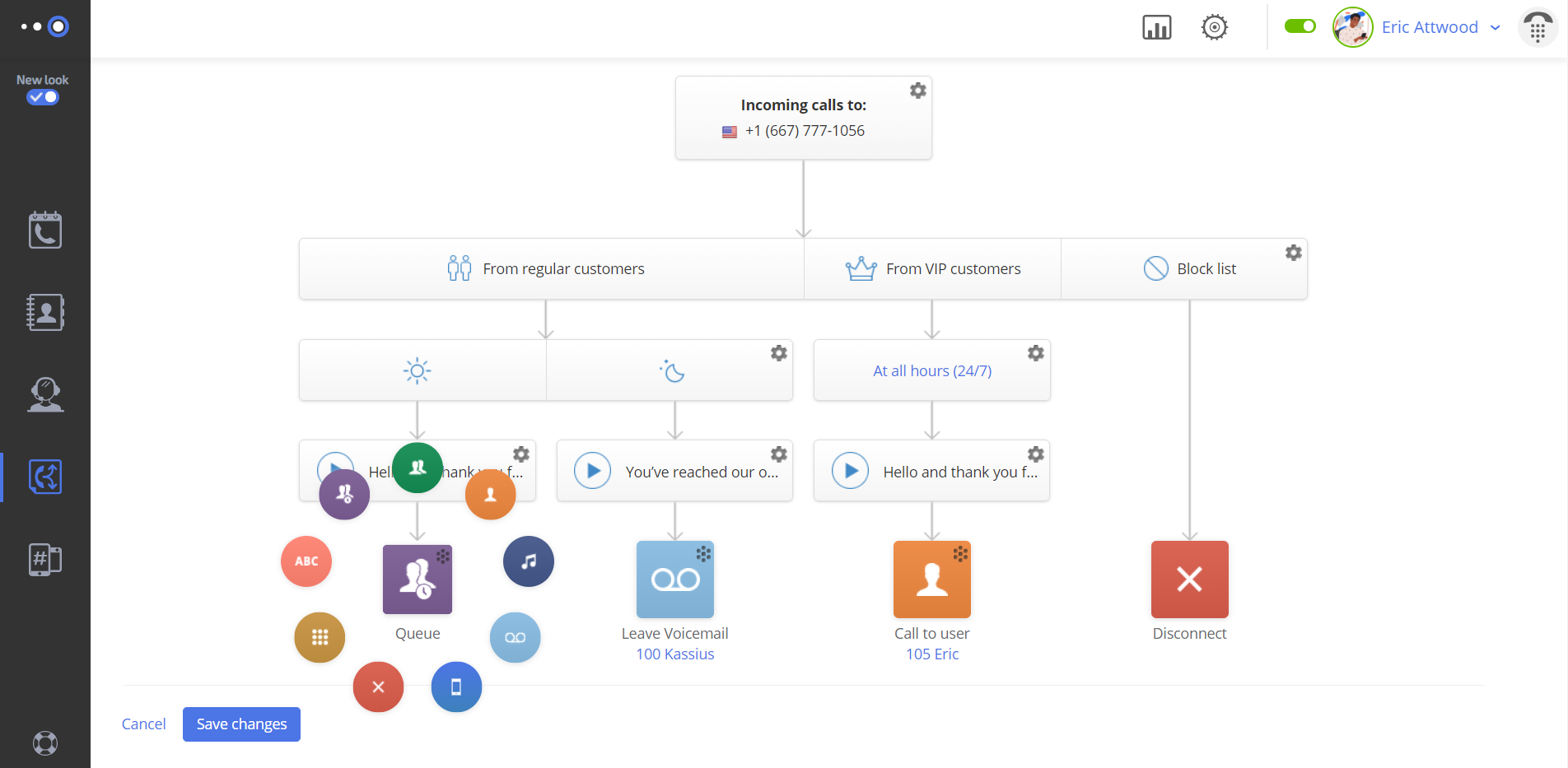 VIP & Blocklists
For one, you can choose how to handle calls from different numbers – like regular calls, VIP calls, or block list calls.
As you add numbers to VIP lists and block lists, you'll see your call flow "tree" expands.
You can also choose custom call forwarding options for each type of caller.
Block lists are a simple way to cut off communication with spam callers.
Numbers on your block list will be automatically disconnected whenever they call.
You can add a phone number to a block list from the history page or the mobile app.
Business hours
Most business owners want to receive calls from regular customers only during business hours.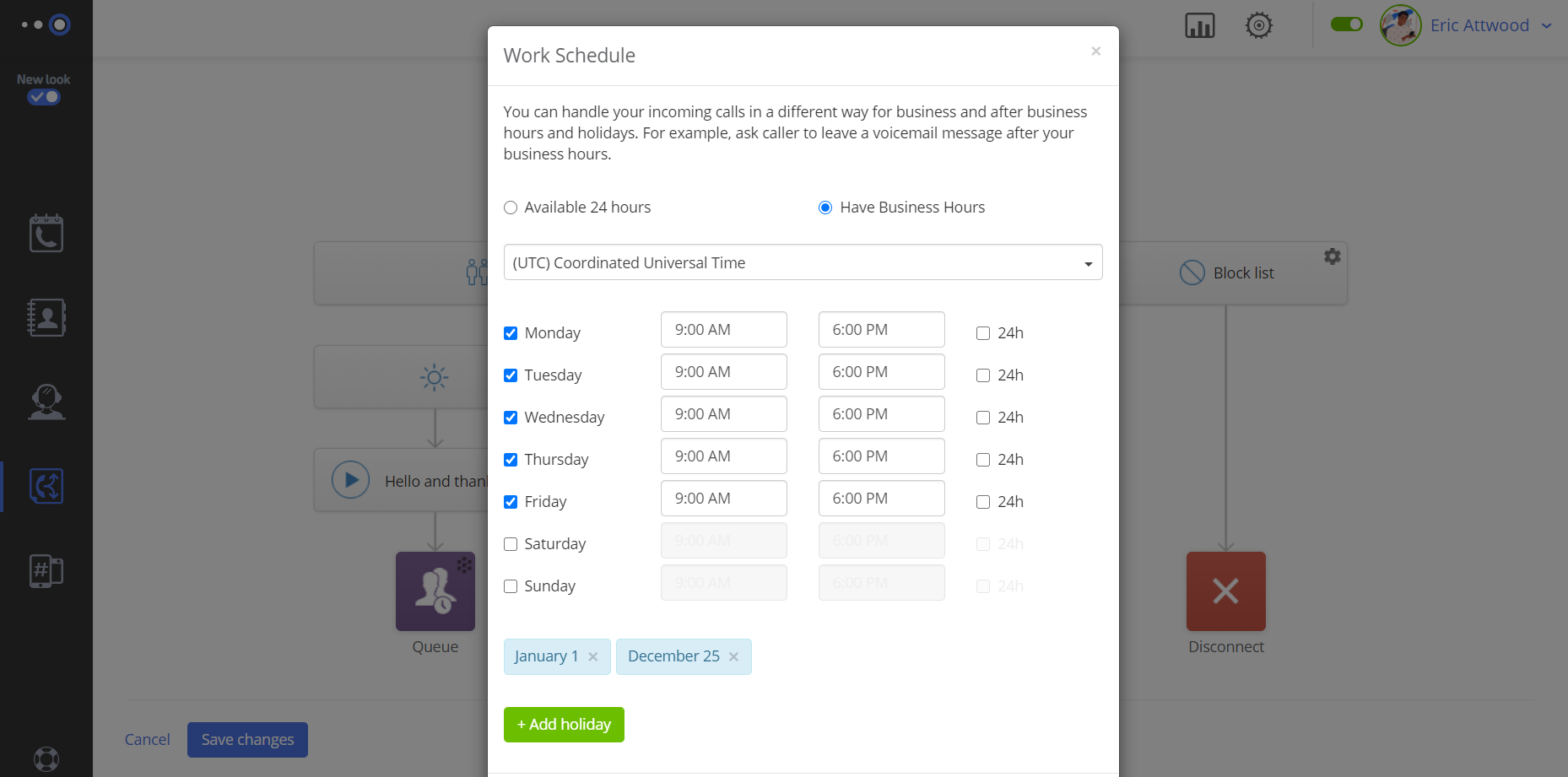 To do that, click the "24/7" button and change the setting from "available 24 hrs" to "have business hours". Then, specify your business hours.
Voice greetings
You may change the voice greeting your customers hear when the call you. If you want to personalize the voice greeting, just click the "customize" icon.
You'll have the option to upload an audio file, record a greeting on your phone.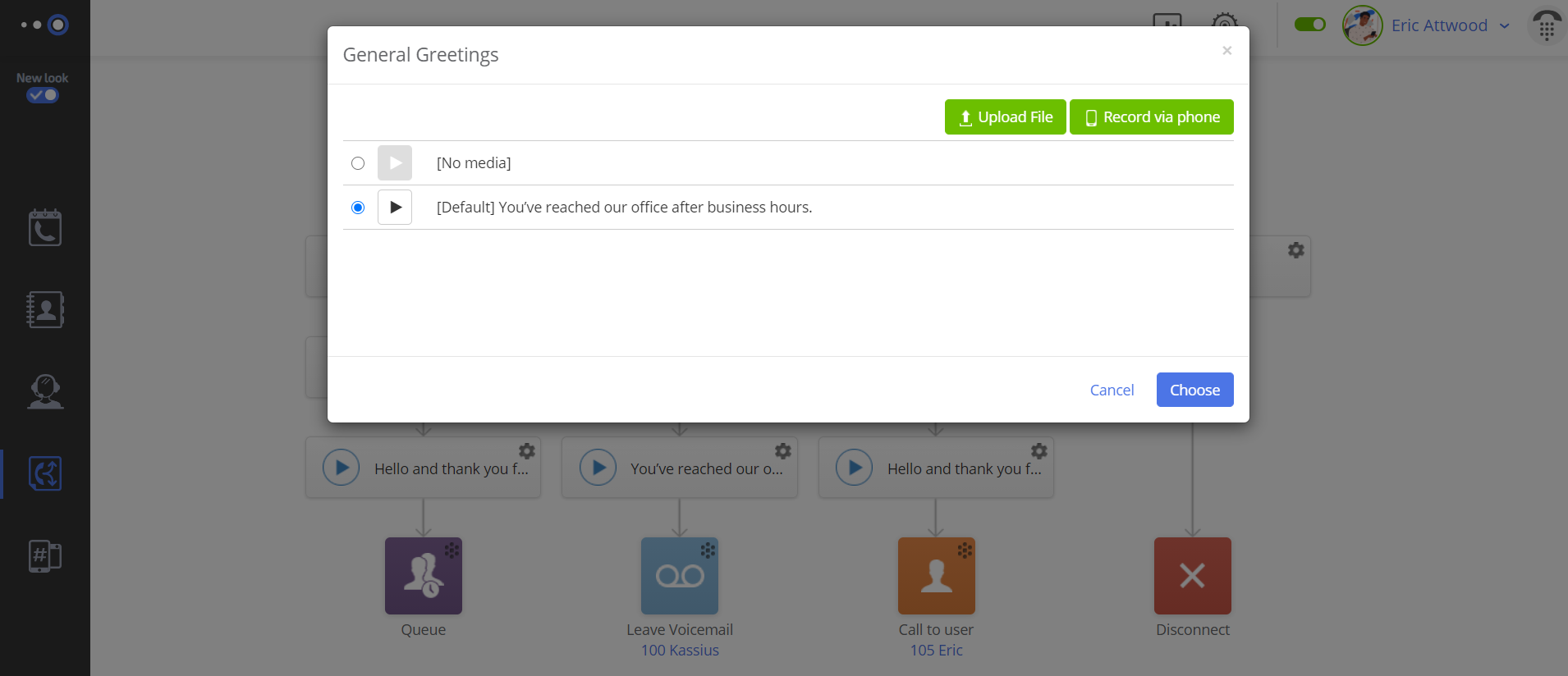 Call handling options
If you have a team, you may want regular business-hour calls to be forwarded not just to the main user like yourself, but to a group (like a department) or a call queue.
At the bottom of your call flow chart, you'll see the end user who will receive the call. By default, that's the main user.
To change this setting, click the small "action menu" icon. You'll now see 9 different options of how to handle the call.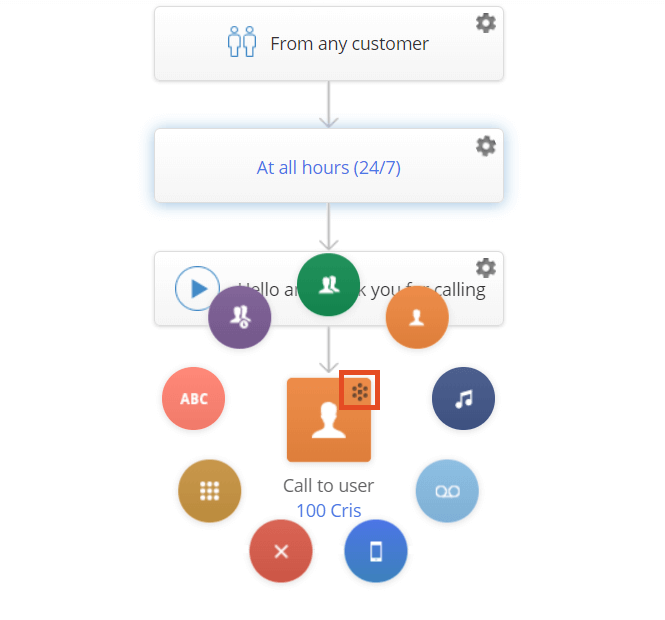 You can employ any of the following options:
Call to user – the call will be forwarded to one person;
Call to group – the call will be forwarded to an entire group, for example, Sales;
Call to queue – the call will be sent to a group but first placed in a queue, and will remain there until an employee answers the call or the caller hangs up;
Call to any number – call any external number;
Voicemail – the call will automatically be sent to voicemail. This option is particularly useful during off-hours;
IVR (Voice menu) – the caller will be offered several options (for sales press 1 and so on);
Dial by name – the caller can dial in letters of an employee's name instead of a number using the number pad, (for example, John) and if the system recognizes it, the call will be forwarded to the appropriate person;
Disconnect – the call will be disconnected.
In the interest of making things as easy as possible for our users, Omnivoice supports a Telephony User Interface (TUI). A TUI allows you to transfer calls, put your call on hold, or make a second (consultation) call just by using your phone keypad, cutting out obnoxious alternative methods of needing to do so. TUI allows you to manage these calls in a number of ways.
Using TUI On Your Cell Phone
You can use TUI with your cell phone.
How to make a direct transfer via Cell Phone:
Press **101# to make a direct transfer.
"101" is an extension of a team member in your Omnivoice account. You can use any phone number, for example 15551234567 as well.
How to make a Consultative Transfer via Cell Phone:
Press ## sequentially during a conversation and wait for an audio guide to play. The following options are available:
Press 1 — make a call to another person (a second line).
Press 2 — merge all active calls into a conference.
Press 3 — disconnect the second line.
Press 4 — return to the first line (the second line will be put on hold).
For example:
During a conversation press:
## 101 # [call another person (second line) … conversation with the second line] ## 1 or hang up — the initial call will be transferred.
## 101 # [call another person (second line) … conversation with the second line] ## 2 — a conference call for 3 members.
## 101 # [call another person (second line) … conversation with the second line] ## 3 — transfer the initial call to another party.
## 101 # [call another person (second line) … conversation with the second line] ## 4 — return to the first line, the second line will be put on hold.
Omnivoice supports the Business Contact Book feature which allows you to save information about your customers.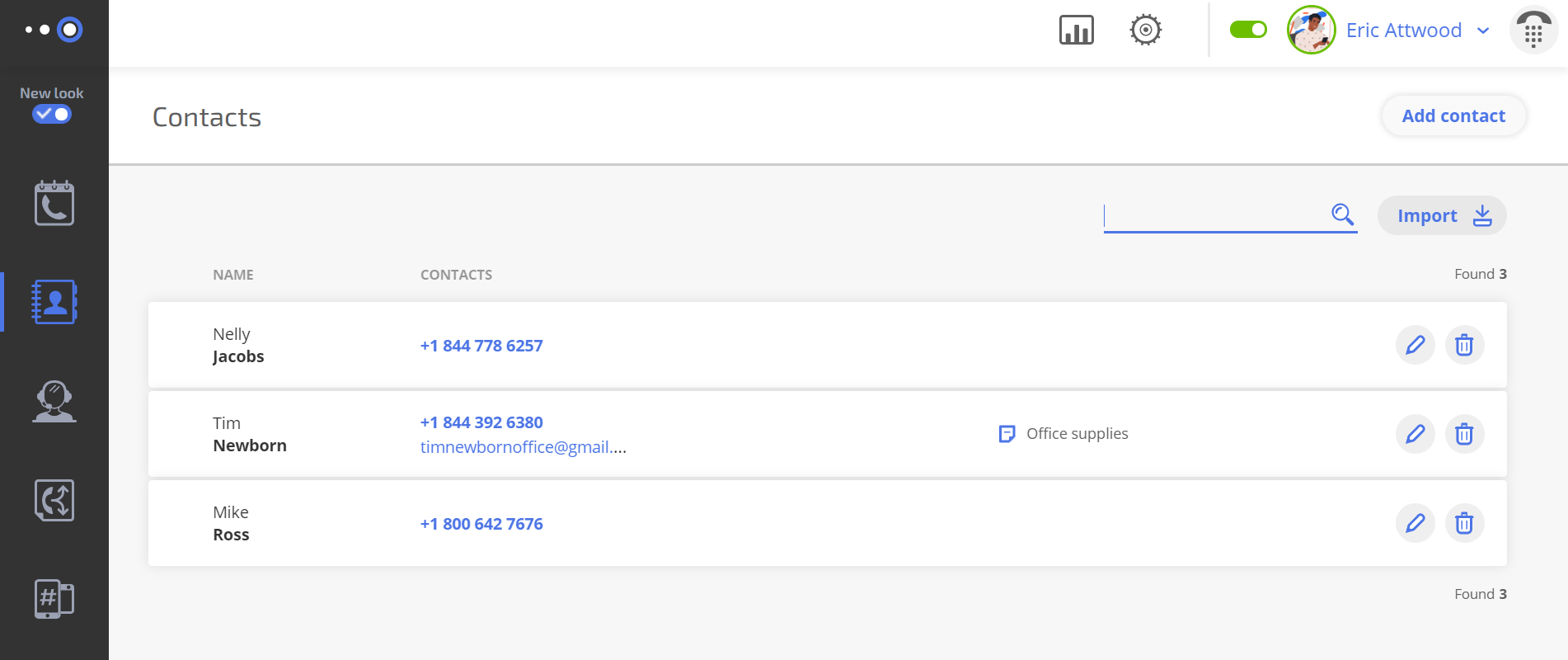 For each client, you can add a name, email, and up to 20 phone numbers, as well as a personal comment visible to all users in the account.
The Contact Book is shared by all users in the account. A client created by one user will also be visible to all the other users in the team.
Names saved to the Contact Book will be shown in the Journal, the Omnivoice webphone, and the mobile app.
How to add contacts
Importing contacts:
To import a contact click on the 'Import' button in the top right corner of the Contacts tab.
you can upload a file in CSV or vCard format into Omnivoice's contact book;
for the best results, we recommend using UTF-8 encoding;
maximum file size is 10 MB;
the number of lines in one file must not exceed 9999.
To add a new contact from the Journal:
go to the list of calls and click on the icon next to the corresponding phone number. Click 'Add number to Contacts';
specify the contact's first and last name and additional information: email and comments;
make sure to save your changes.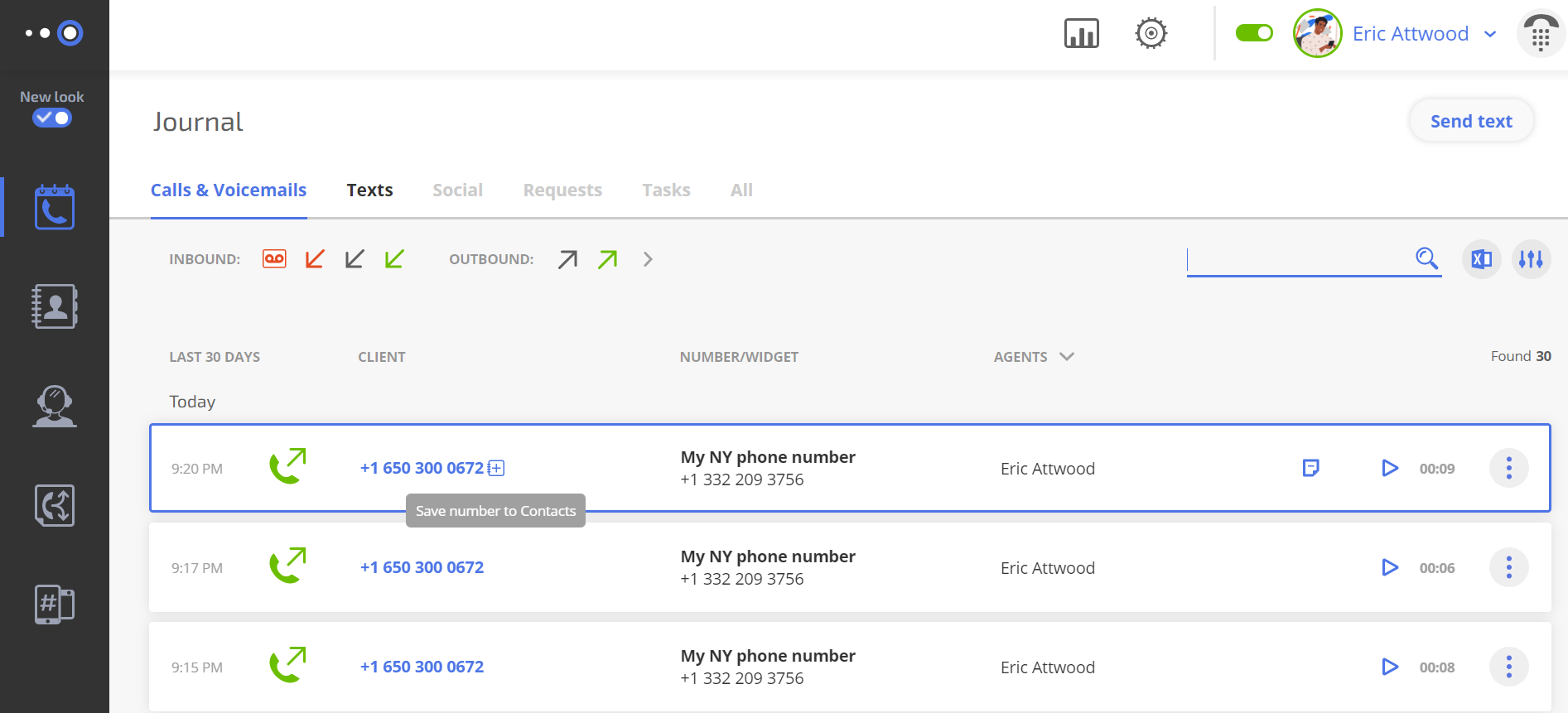 To add a new contact from scratch:
go to the Contact Book section;
click the Add Contact button;
specify the contact's first and last name, phone number and additional information: email and comments;
save changes.
The client's name will be displayed in the Omnivoice webphone and in the Journal.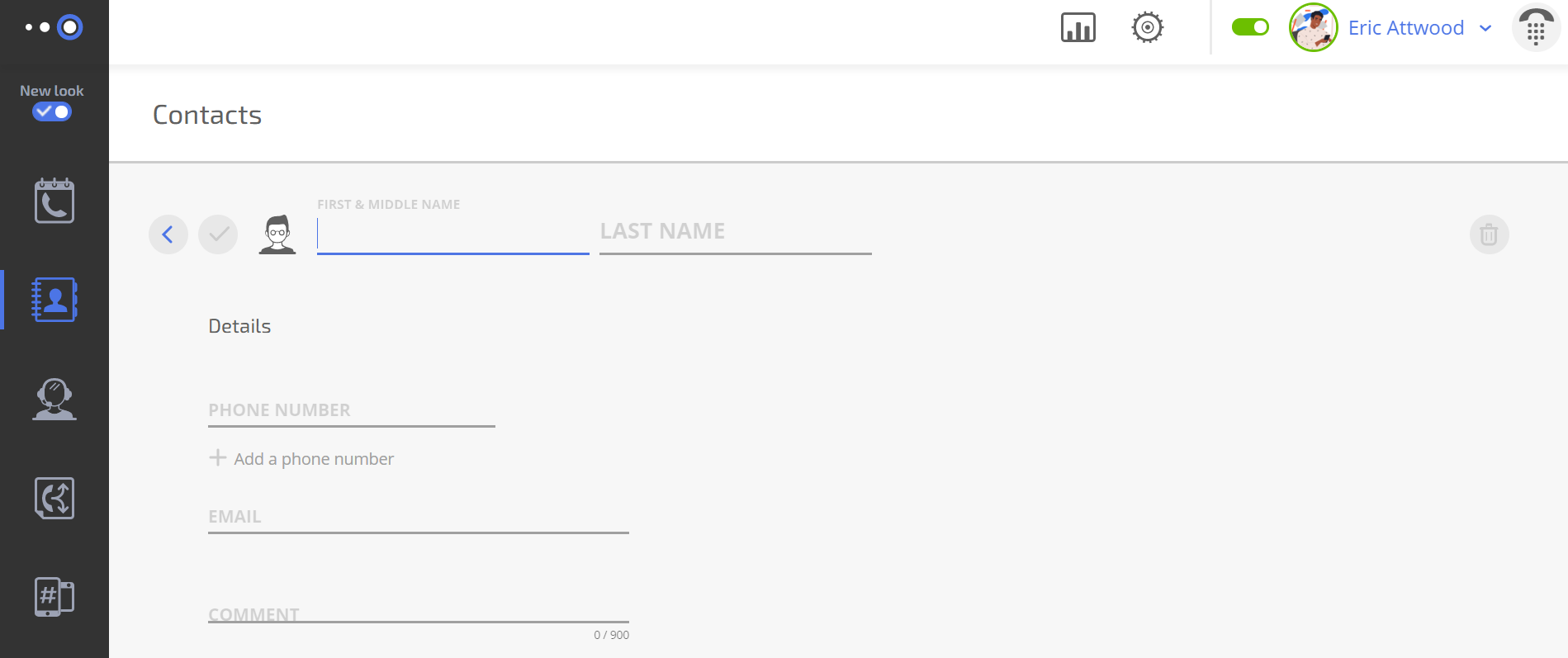 Notes
You may create multiple contacts associated with one phone number. In this case, the interface will display the note Multiple contacts and will list all the names associated with this phone number.
Calls from deleted or edited phone numbers will be shown without names.
To create a contact, you need to save information in at least one field. If no number is associated with the contact, it will be displayed with the note: Name not set.
Like record books of old, having a place where you can keep track of your activities, call history, and voicemails is absolutely critical when it comes to business organization. Fortunately, with Omnivoice's Journal, you can see your entire communication history with clients in the Journal tab.
From the Journal, you can:
view your call history;
make calls to your clients;
listen to your recorded calls;
listen to & read your voicemails;
filter calls.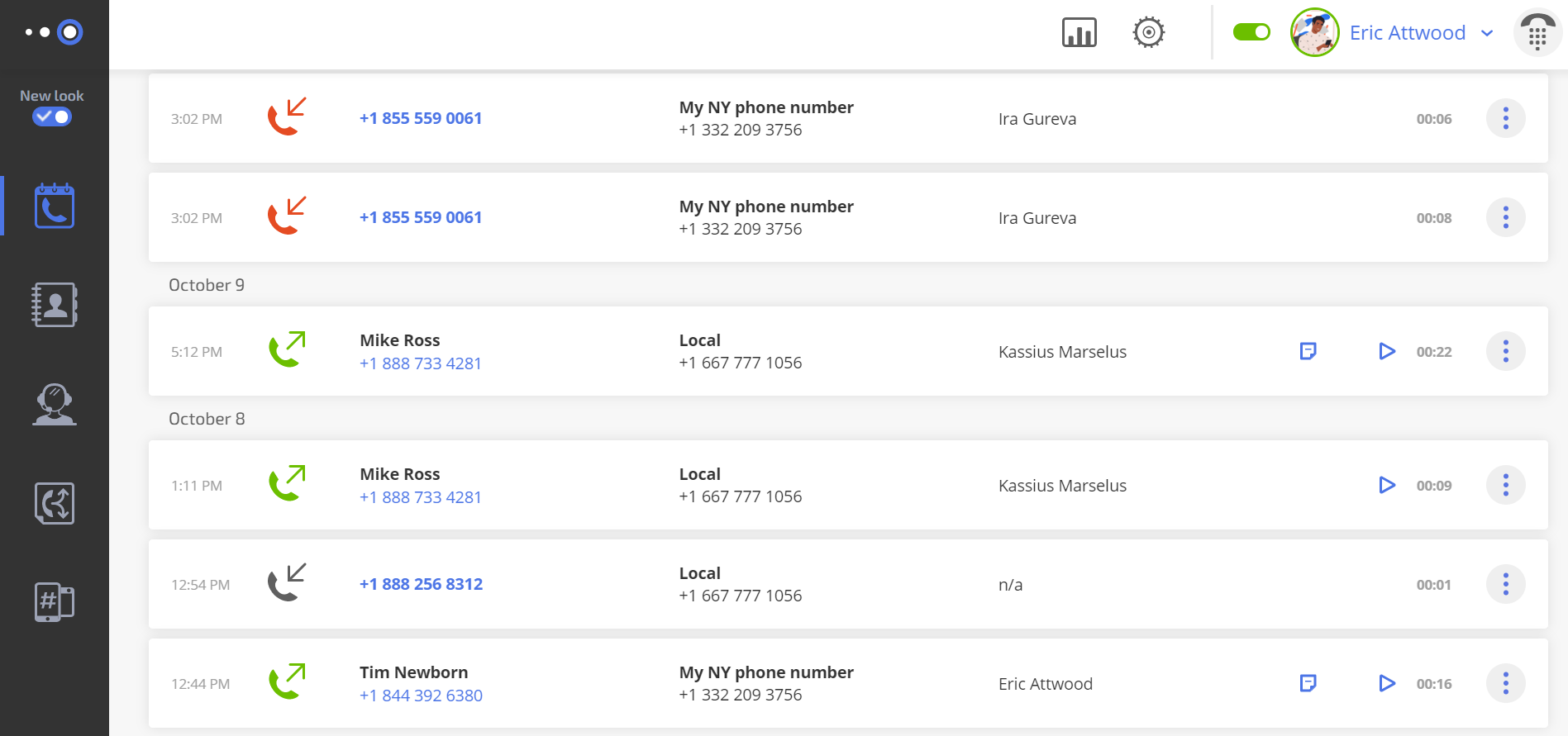 Of course, this all means that the Journal is also an amazing tool for team work. When you could only rely on paper, either everyone would have to take the same notes or they'd all have to rely on one singular central notebook. Good luck keeping track of that. With the Journal, those old concerns cease to be an issue.
When you leave comments on a call, all your colleagues will see your notes, so everyone is on the same page. It's important to note though, regarding the Journal and your privacy: if you leave comments and the like, other folks on your team are going to be able to see what you're saying.
This has obvious benefits: if/when you finish a task or assignment, for example, you can mark it as resolved to better keep track of what needs doing and who's done what. Chances are you won't be putting in any personal information, but if it's something you don't want colleagues to see, you probably should put it somewhere else.
How to enable call recording
The Call Recording feature will be automatically enabled for all your phone numbers. You can adjust this option on the Numbers & Web Widgets page.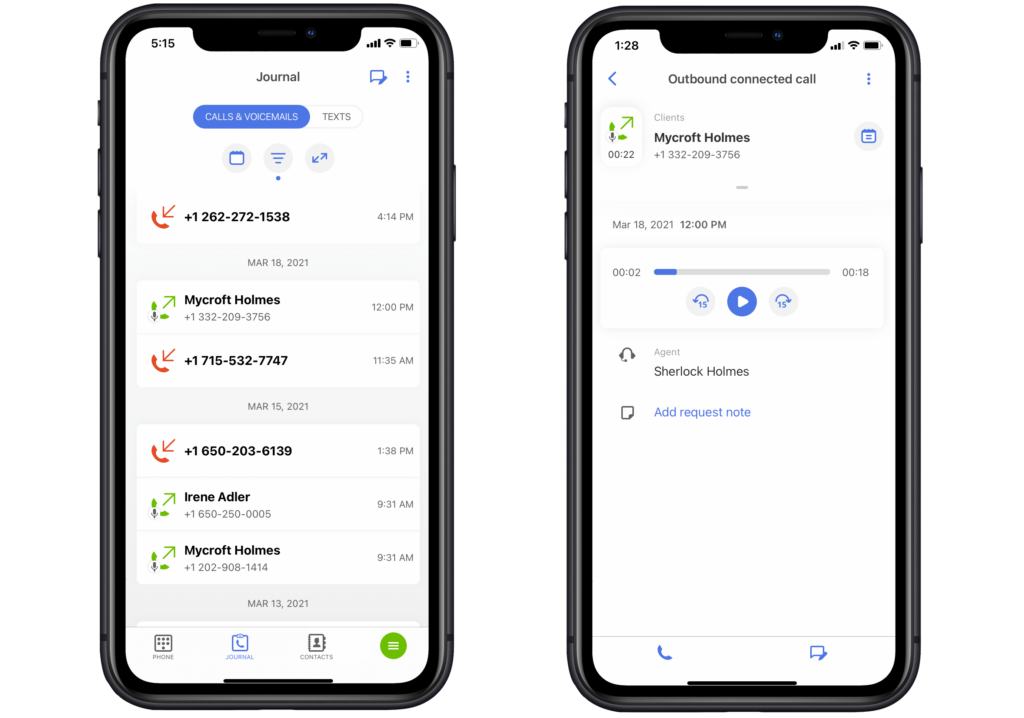 How to listen to Recorded calls
You can listen to all recorded calls in the Journal on the desktop and in the Omnivoice mobile app.
Omnivoice's Call Recording feature lets you record calls so you can be sure that you and your team are giving the right advice and service to your customers. With Call Recording you can be sure that you never miss a word of a conversation with a client. It also allows you to work with your employees to address weak spots in their sales pitches and how they can better do their work.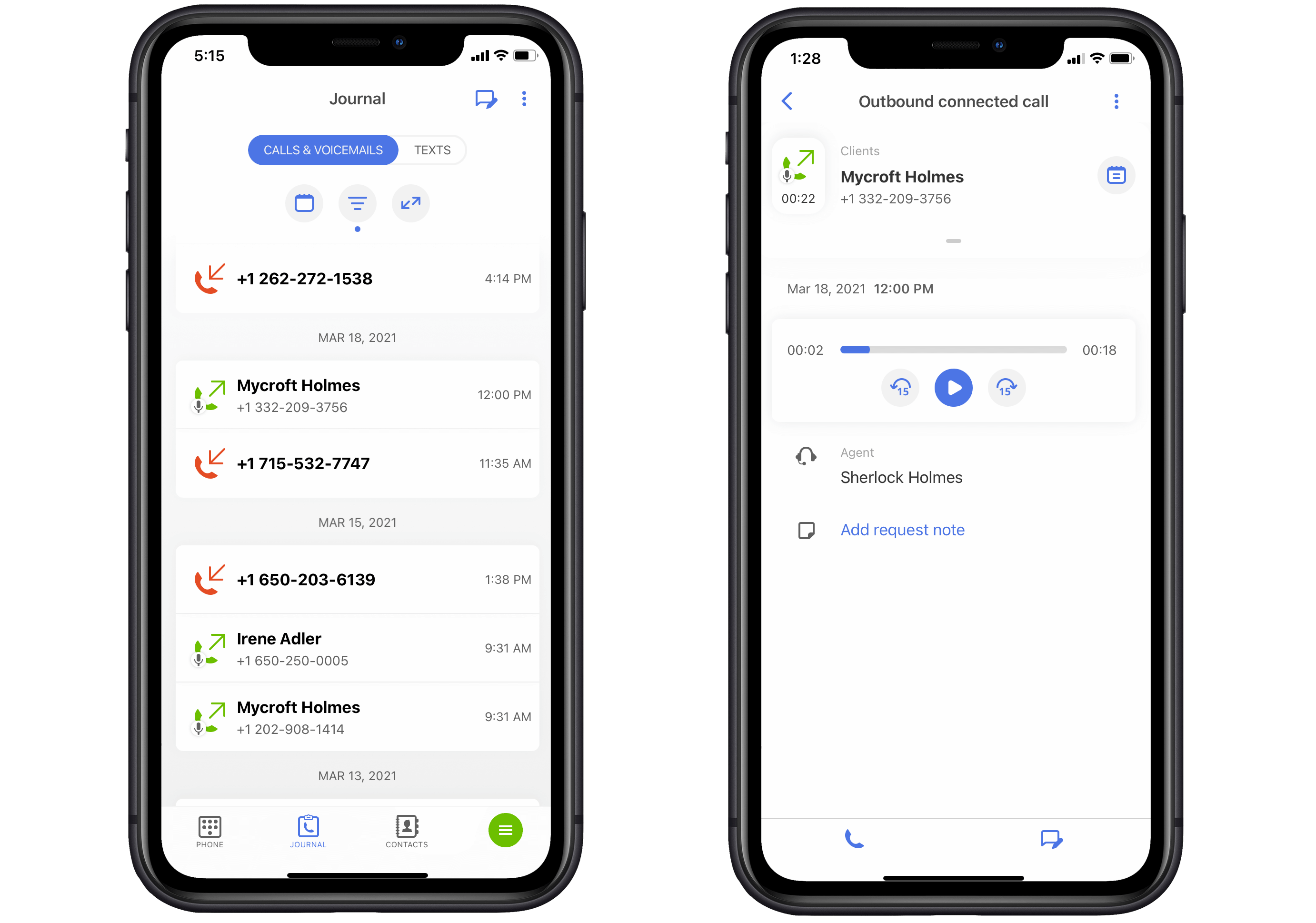 If you've enabled the Call Recording option, you automatically give your consent to call recording on your end. Your customers will hear the automated verbal announcement: "This call may be recorded for quality assurance" when call recording has been initiated. By continuing, they give their implicit consent to be recorded.
The maximum duration is 90 minutes per recording. If you have a call which is going to go over this limit and you need it recorded, you can simply hang up and quickly call again.
Hopefully as your business expands, you'll get more calls. However, this success of course will come with a caveat: more calls means more people to talk to, which means less time for you and your employees (and potentially, it means too many callers at once!). And as you undoubtedly know, a missed call could end up being a missed big client. Omnivoice recognizes this, which is why we offer the call queue function. A call queue allows you to manage large call volumes with limited staff, cut down on missed calls and voicemails, and present a professional experience for customers.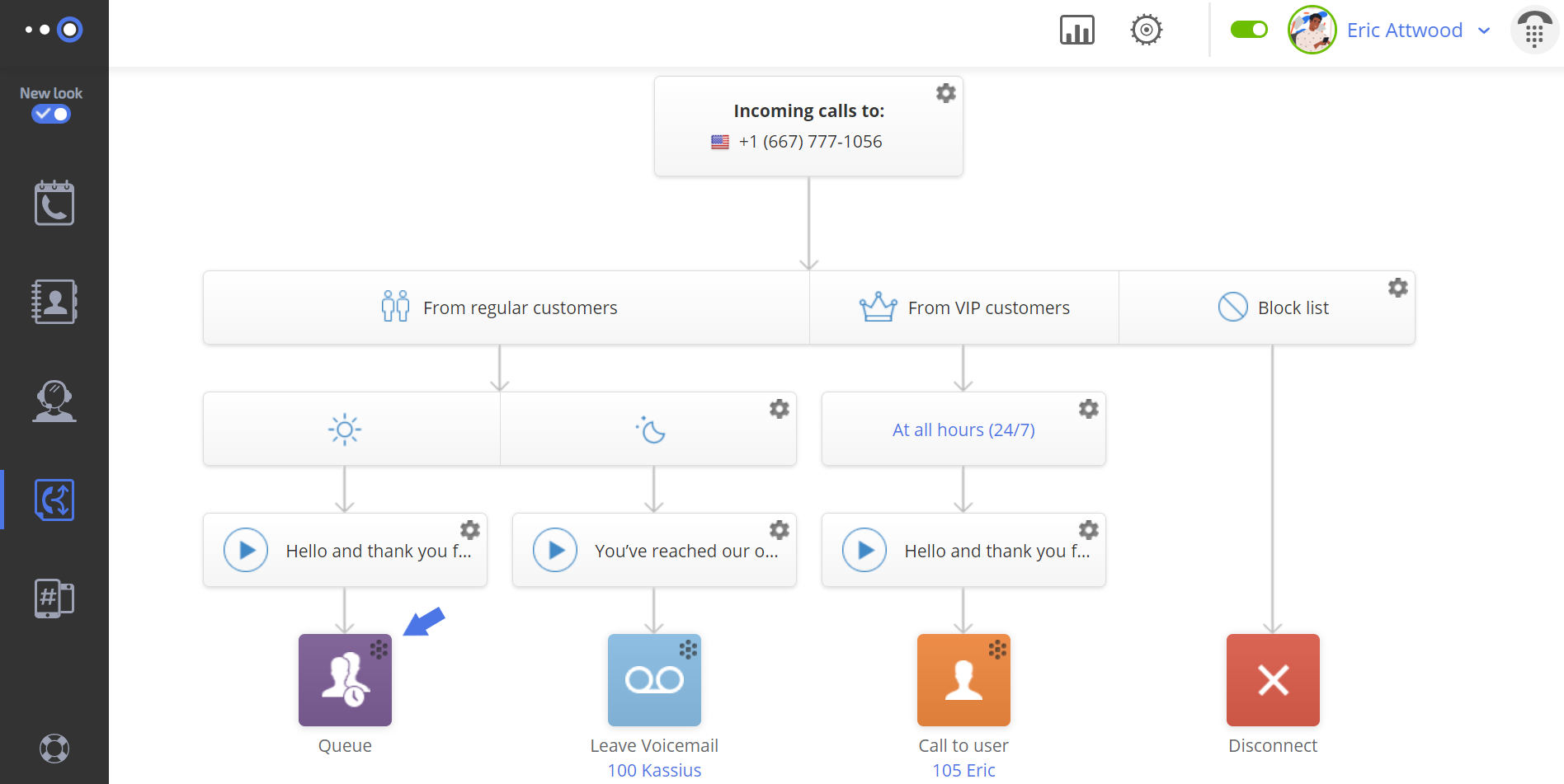 How to put a call into Queue
Start on your web panel. Go to "Call Flows."
Click on the "Actions" block.
Select "Call Queue."
Select the team member who will be accepting the calls, and configure the call queue settings: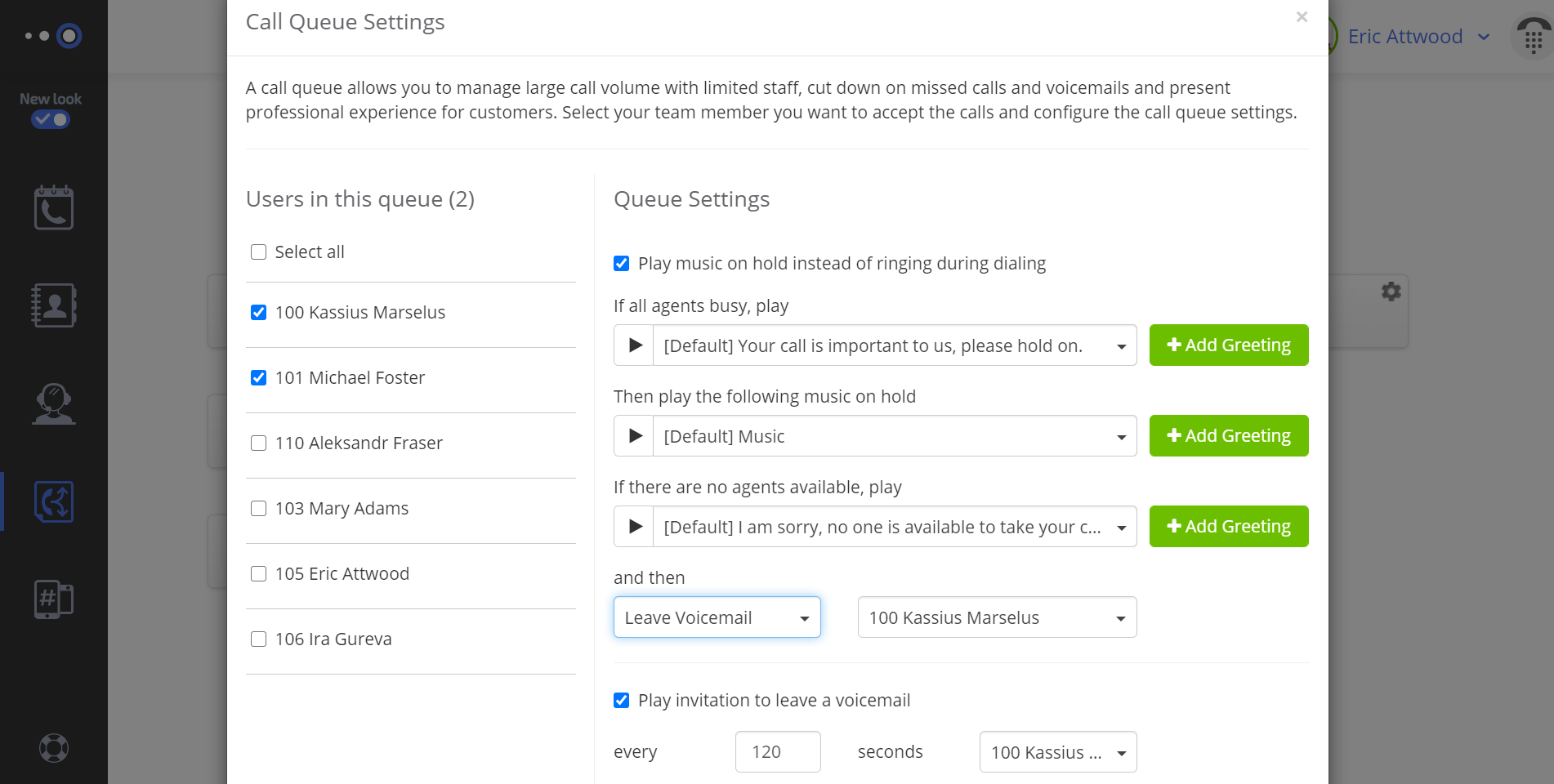 "If all team members are busy, play" — here you can upload any media file you want or use the default. This is useful as, thanks to Omnivoice allowing you to provide your own sound files, you can already be providing information to callers without actually having to speak with them. Many people, for example, may be calling to ask about sales or opening hours; while they're waiting in the queue, these questions can already be answered by them via your pre-recorded message.
"Play the following music on hold" — here you can upload any media file you want or use the default. Once again, being able to upload your own sound files means your callers can have a more interesting experience than just elevator music (though responsibility for using copyrighted material is on you!).
"If there are no team members available", you can change the greeting and select an action for the call: leave a voicemail, call 1 extension, play audio, call any phone number or disconnect. These options allow you to dramatically expand your callers' options and makes life easier for both them and you.
"Play invitation to leave a voicemail in…" — allows customers to leave a voicemail if they prefer not to wait in a queue. Many people won't have pressing questions and as a result may be happy with just leaving a voicemail, giving you time to focus on the ones who need attention immediately.
Do not forget to save all changes!
When things get busy at work, odds are you won't be able to speak to every single caller immediately upon receiving their call. Even the most efficient of businesses occasionally will need to place people on hold, and callers will have to wait to talk to someone. Omnivoice understands this and has endeavored to make it as easy as possible to upload greetings in as many places as possible for as many situations as possible. Here we'll be going over where in the Omnivoice web panel you can upload those greetings, and how you can do so.
Adding Personal Greeting
We'll start in the Profile section of the web panel, which you can get to by clicking your name (or your account name) and selecting the "Profile" option in the drop-down. Then, click the "Greetings and Media" tab which will appear on your screen. It'll look something like this: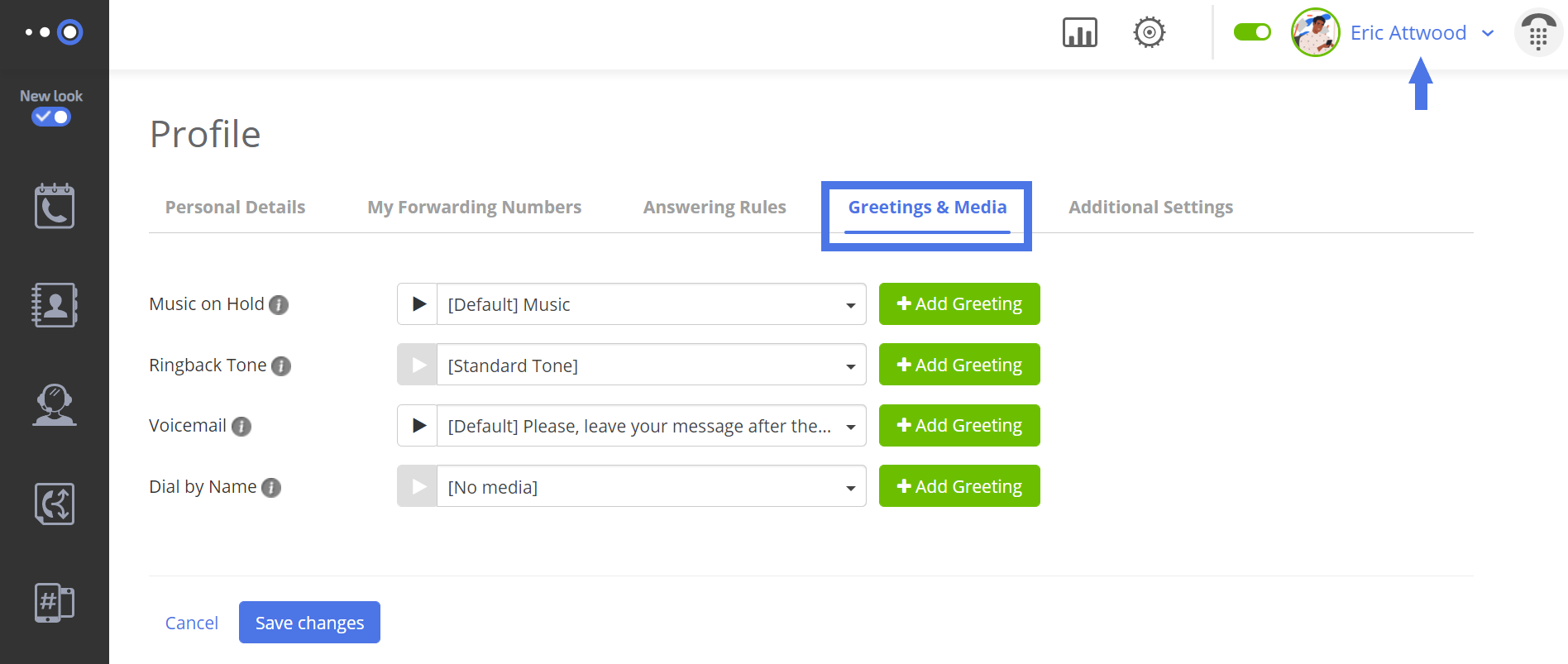 From here you can input all of the necessary Greetings you may need for call flows:
hold music;
ring back tone;
voicemail;
and dial by name.
To do so, click "+Add Greeting" (all of the +Add Greeting buttons take you to the same page).
From there you can upload a file from you computer, record one via your phone, create one in the Voice Studio, or pick from one you've previously uploaded.
Be sure to save changes!
There are a few other sections throughout where you can upload Greetings.
Adding Company Greeting
In the call flow section, for example, toward the bottom of your flow you'll see something like this: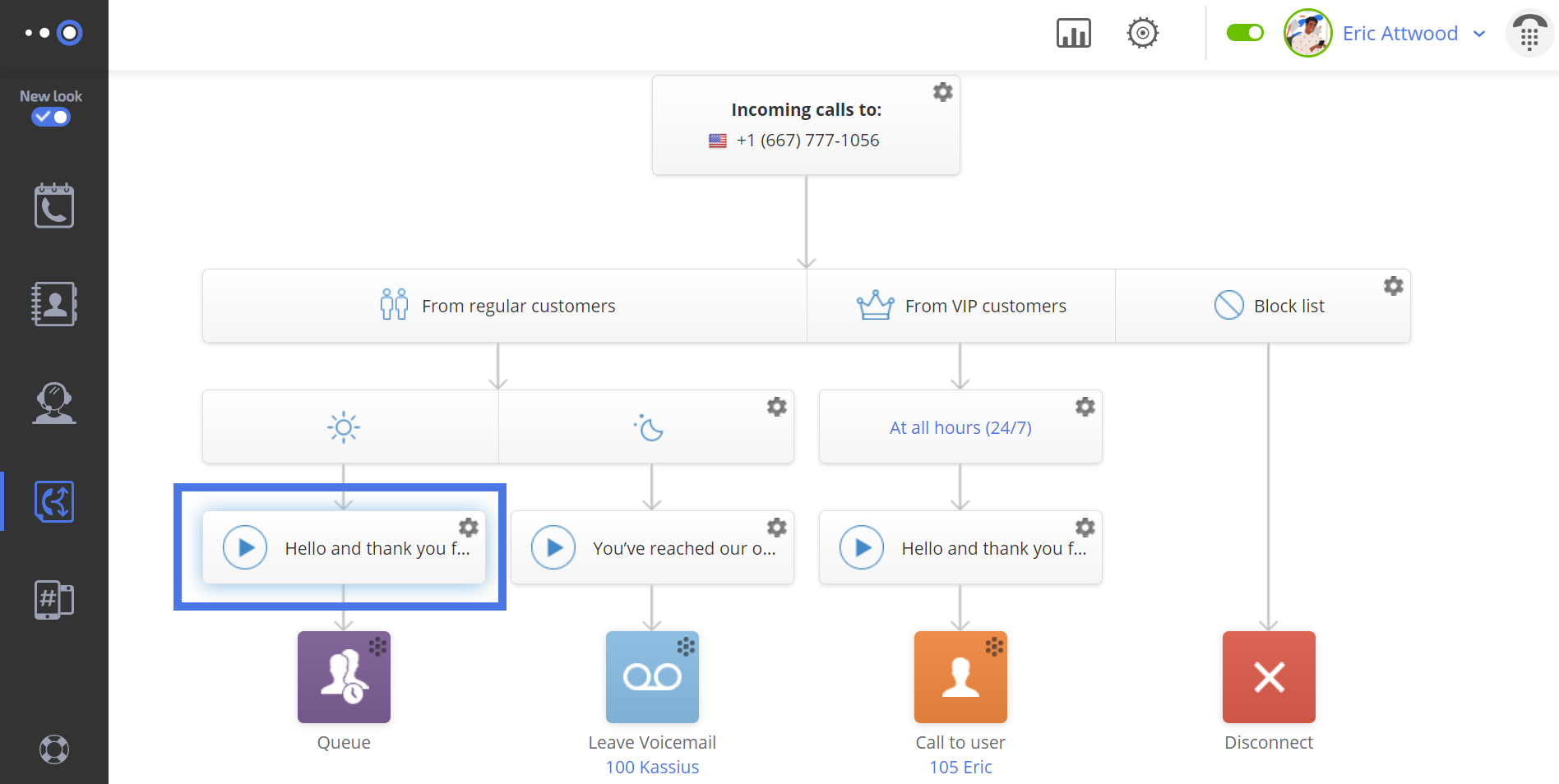 These defaults are what your customer will hear when they call you. Like everything else, you can change that. Clicking the little gears on the top right will take you to the same Greeting upload page which you saw previously (with the options to upload by phone, computer, Voice Studio, or to pick from previously uploaded Greetings).
Once a greeting is uploaded, it's uploaded to your account- so you can access the greeting on any page (and don't have to keep re-uploading said greeting).
Adding Greeting for the Call Recording
Another place you can upload Greetings is in the Numbers and Web Widgets section. This one isn't as obvious at first. Clicking on the section takes you to a list of all of your numbers. Next to your numbers and their call recording status is a little gear. Clicking it takes you to this page: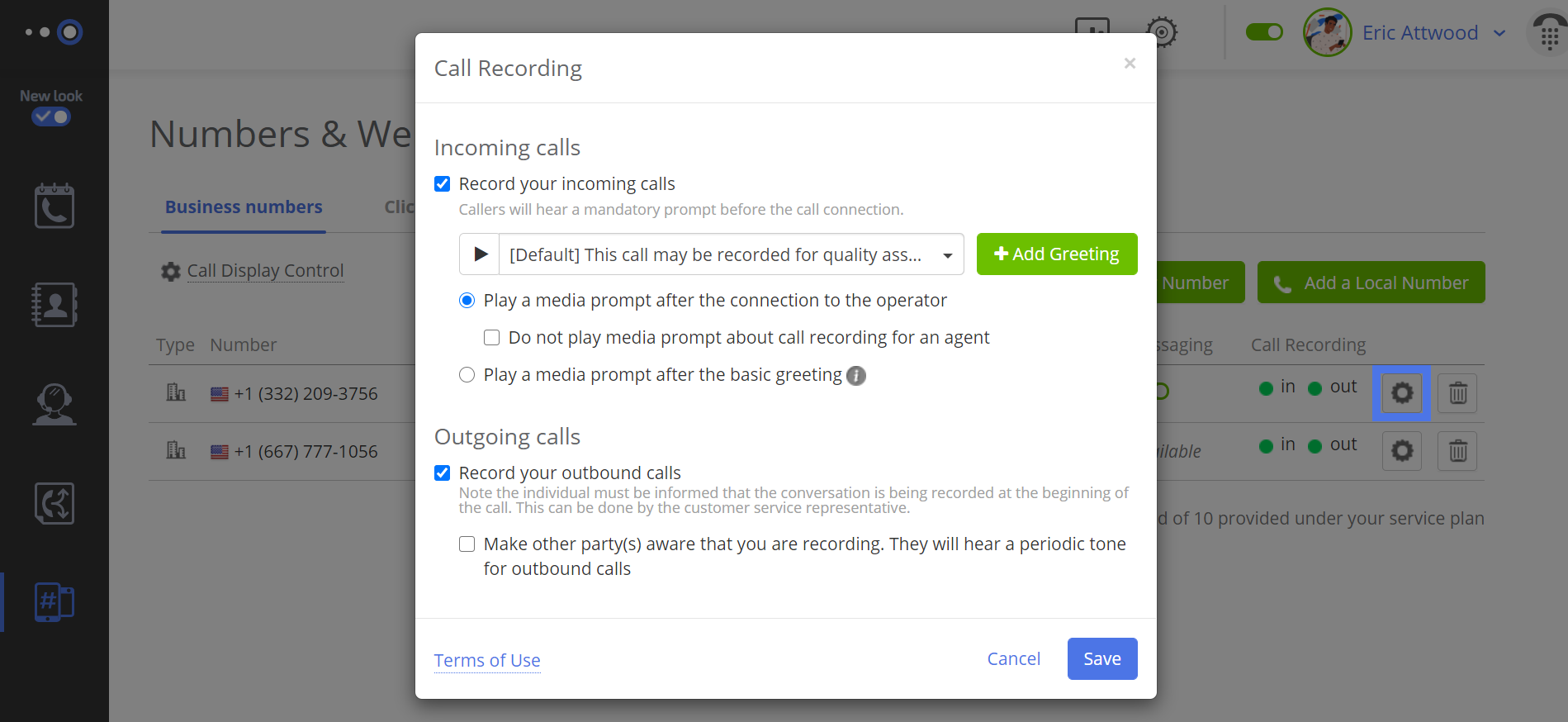 Here you'll be able to make changes to your call recording options. But see that +Add Greeting button?
Yep. That's another place you can upload greetings.
As you can see, Omnivoice has designed a system with you and your team in mind.
Holiday coming up and want to quickly change your auto attendant? Easy. New hours? Easy. New sales? Easy.
With Omnivoice, it's easy.
How to set block lists & VIP lists
You can sort callers into "lists": a "VIP" list for preferred clients, so you're always ready to take their calls, and a "Block" list, to keep those pesky spam callers at bay!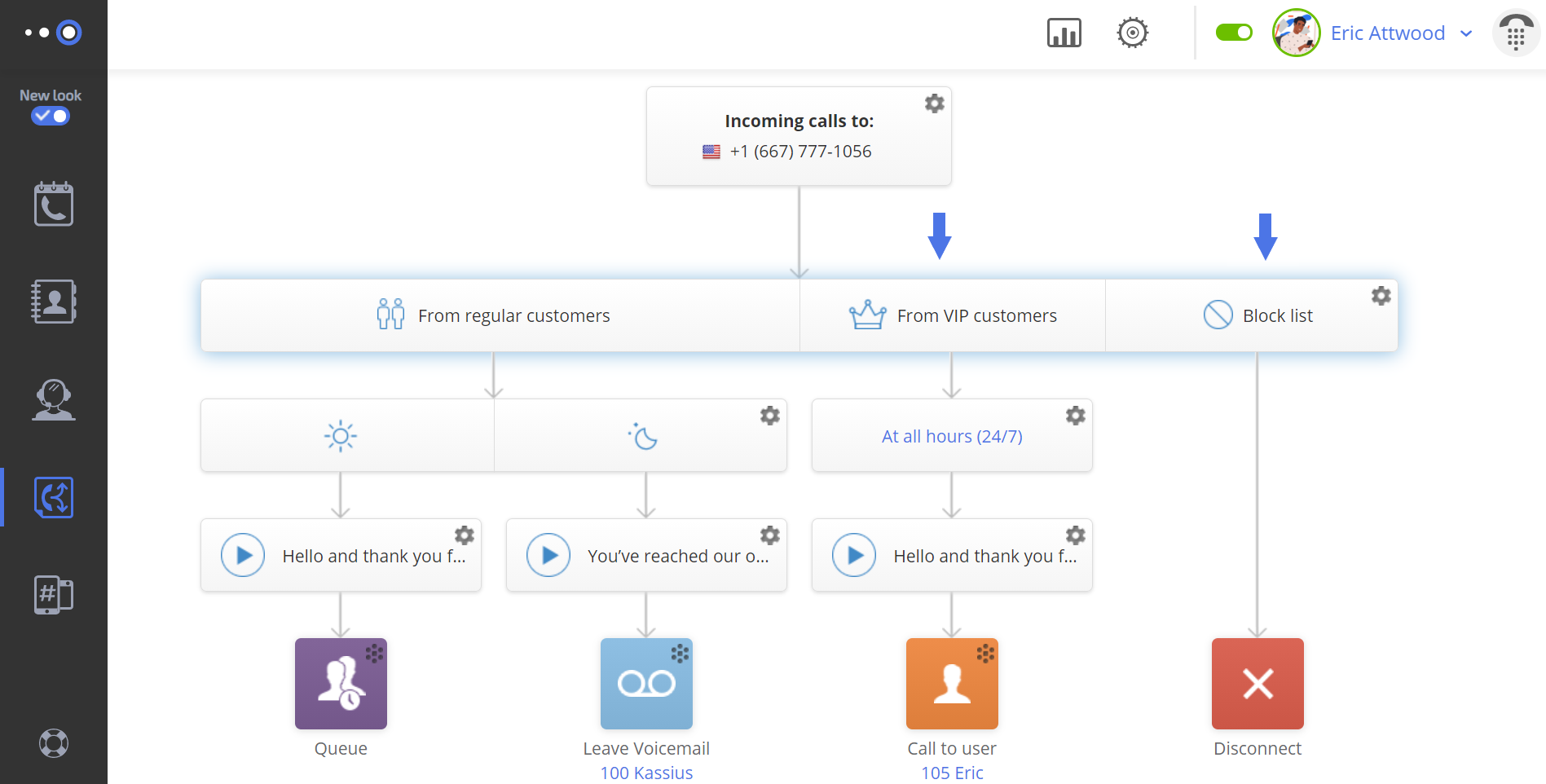 Go to "Call Flow".
Click on the "From any customer" block.
Select a type of list — "VIP" or "Block."
Enter or import phone numbers.
Record or upload your greeting and configure how to handle the call.
Save changes.
How to add numbers to the block list from the mobile app
Select the number from the call history page.
Click block number.

Can I use my current business number with Omnivoice?
Definitely – you just need to port your line(s) over to Omnivoice, completely free of charge. Both physical and virtual business lines can be transferred over.
Porting is available for local phone numbers only!
How can I port an existing number?
We will need you to provide the authorized person's name on the account with the losing carrier, your email under the Omnivoice account and the LOA – Letter of Authorization.
If you someday decide to leave Omnivoice, you'll be able to port the same number(s) to your next phone provider, provided they allow for ported numbers.
How long does it take to port my number?
Porting orders usually take around a week to complete. While the numbers are being ported – they are still available with the losing carrier so that there's no downtime in your business.
Is my number portable?
We can port over any number to our system but sometimes there are cases where the losing carrier doesn't approve port-outs. You will need to reach out to your current carrier to see whether your line is eligible to be ported out.
How does it work?
We contact your current provider as soon as we receive your filled-out porting form.
Omnivoice receives a date from your current provider for when they will allow for your number to be ported (we will then notify you).
When said date arrives, we port in your number. When this is accomplished, you will receive a notification from Omnivoice.
Where to start?
Before initiating the porting process, we'd strongly advise you to contact your current carrier and obtain your CSR (Customer Service Record), which contains all the information required for a smooth port-out. If you carrier does not have CSRs, you can just ask for the necessary port-out information for your number. However, the CSR usually speeds up the porting process and prevents any rejections during the whole process.
If you are porting a Google number, please make sure that this number has been unlocked since Google numbers are locked for porting without paying a $3 fee. A Google Voice account number is a phone number itself. More details: https://support.google.com/voice/answer/1316844?hl=en
To start the process, you need to follow this link, fill out all the fields and attach the most recent invoice from your current carrier + an LOA (Letter of Authorization). You can find templates for the LOA under the "Submit" button.
During the process of filling out the LOA fields, you might have some difficulties, so we've decided to make your life a bit easier and have described all the fields for you. Most likely, you won't have any questions about the fields if you already have the CSR – in this case, you will just need copy-paste all the information from the CSR.
Please note that all the fields are mandatory to fill in. For instance, if there is no PIN on your account, please type "n/a".
How to submit the LOA form for local numbers?
Account PIN is actually the password of your phone number required to pass your porting request through. Some carriers don't have PINs on their numbers. If you are porting multiple numbers, please find out whether they have the same PIN or different ones. Likewise, if you are unsure if your carrier uses PINS, please ask them before starting the process.
Service and Billing Addresses are required to dispute your order effectively. The first one is as per your carrier's records, while the second one is usually specified on invoices. In most cases the addresses are the same.
Billing Telephone Number (BTN) is usually the main number on the account. If you have only one number on the account – this number is your BTN. Thus, the BTN is always one of the numbers you have with the losing carrier. If you are going to port in your BTN, you can select whether the port will be full or partial. A full port typically includes porting the BTN and all numbers on the original account. A partial port allows you to ask for an optional replacement BTN, so that the original account stays open.
Printed name – type in the authorized person's name and sign the LOA, since some of the carriers require the LOA to have a signature.
Date – the LOA should be dated within the past 30 days.
Local phone number(s) to be ported – list all the numbers you want to port in. Please note, that all numbers must be associated with the same account. If you want more than 10 numbers to be ported, write them down as well.
If you have any questions when filling out the fields in the LOA please feel free to contact support. We are always happy to help you! Happy porting!