Android Mobile App
How to download the app
You can download the app for Android by clicking here.
Why do you need the mobile app?
We recommend installing the Omnivoice mobile app to access the following features:
Make and receive calls from your business number

Send and receive SMS

Quickly change personal settings on incoming calls

Receive notifications regarding all activities, including missed calls and voicemail

View tasks and history

Listen to call recordings and voicemail

Quickly change your status (Available – Do Not Disturb [DND]) so as not to receive calls when you are busy

Block unwanted callers
How to make calls from the mobile app
Omnivoice Mobile allows you to make outgoing calls on your mobile phone with your very own business number. This function allows you to both up your professional image by a notch and maintain your privacy. Keep your personal mobile number, well, personal!
There are two ways to make an outgoing call:
Via a Dialer

By tapping the Call button (for Missed calls, Voicemails or Texts)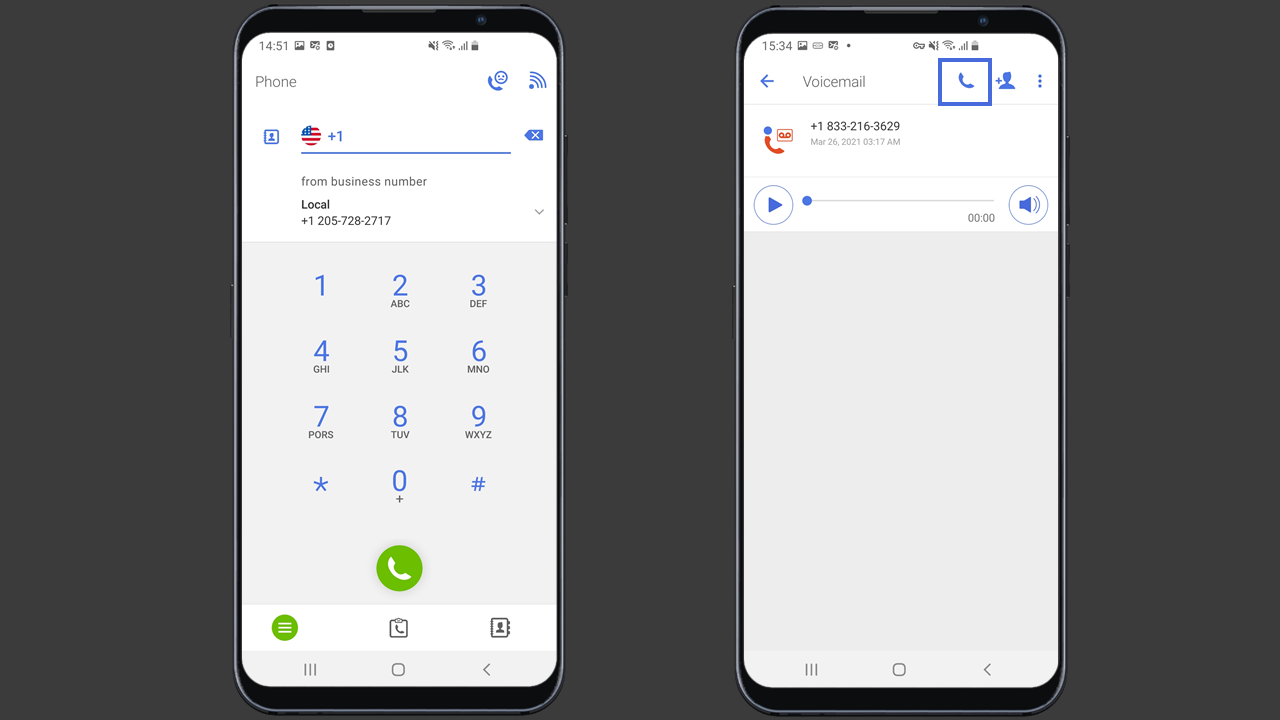 You can select one of 3 methods for these outgoing calls:
IP Telephony (the default, preferred method, requires a good internet connection) – uses Omnivoice talk minutes. Your customer will see your business number as the Caller ID during the outgoing call.

Mixed method – uses both Omnivoice & cell provider minutes. Your customer will also see your business number as the Caller ID during the outgoing call. This method can be used if your internet connection is poor.

Note: For the above call method, be sure to specify the cell phone number on which the app is installed. If the number is specified incorrectly, this method will not work. The number can be specified in the Profile – Phone number section.

Via your cell phone – uses cell provider minutes. Your customer will see your cell phone number. This method can be used if you do not have an internet connection, but must make a call.
How to receive calls in the mobile app
To receive incoming calls, you must activate the Mobile App feature. This can be done when you first log in to the app or later in the Settings > Receiving Calls tab.
You may also do it in the web panel (Profile > My Forwarding Numbers).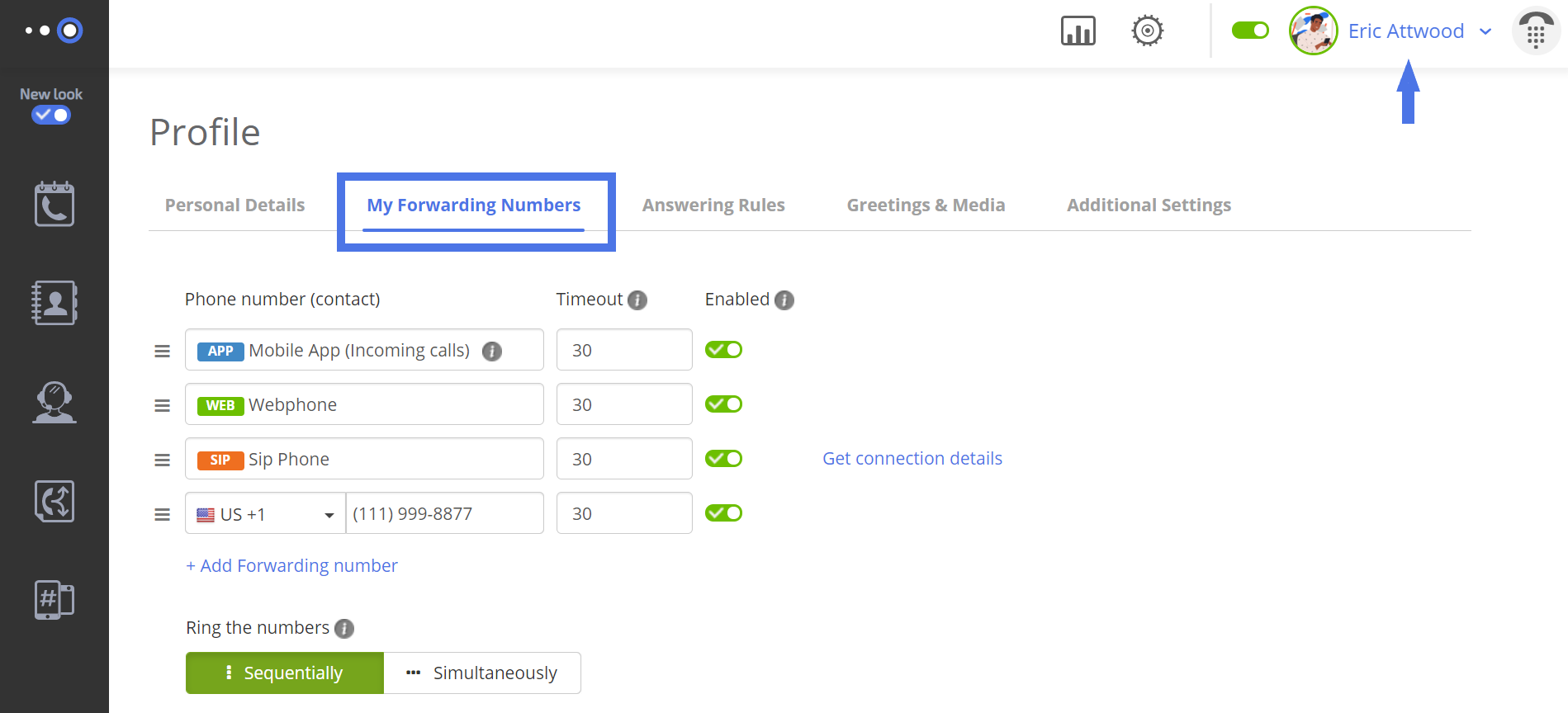 You can also configure how you want to receive calls — to which numbers or devices and in which order you prefer the calls to be sent. To do this, turn on the desired numbers and select the dial mode: simultaneous or sequential. If you select the sequential mode, you can specify how many seconds you want to wait for an answer before moving on to the next contact.
How to choose a business number for outbound calling via mobile app
If you have two or more business phone numbers, you can select the desired number for outbound calling in the Phone tab. Choose a business number for outbound calling from the list.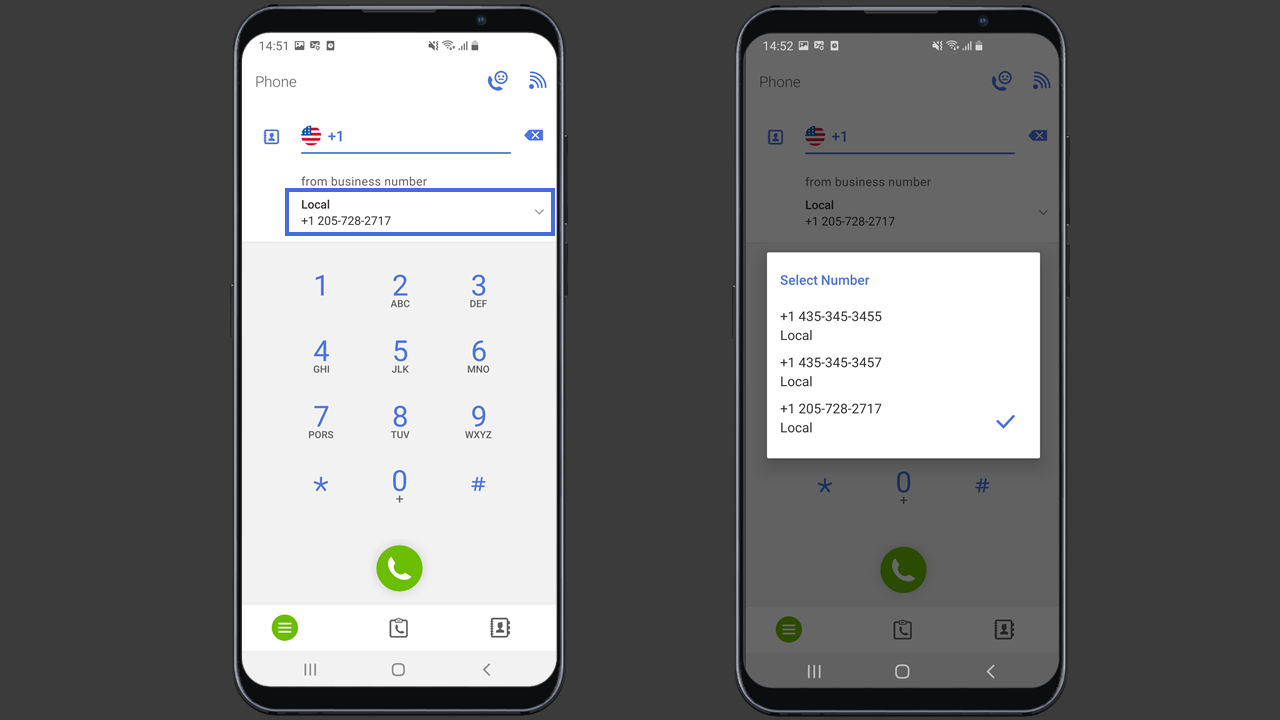 How to send and receive SMS via mobile app
To send a new SMS message, tap the Add Activity icon in the Activities tab.
To reply with an SMS to a missed call, voice mail or a previously received SMS: tap the task (or) call in History, then select the Text option in the top menu.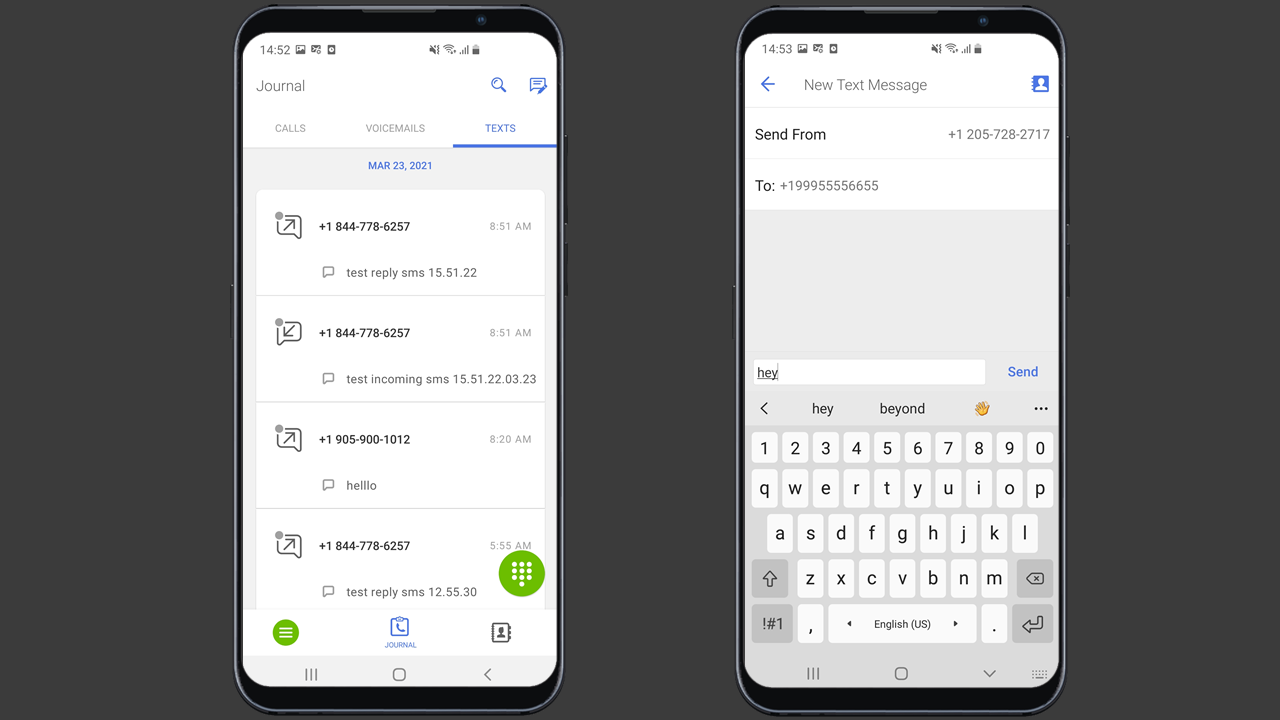 How to set up your own ringtone
Go to Settings and select the default Omnivoice ringtone or your own ringtone.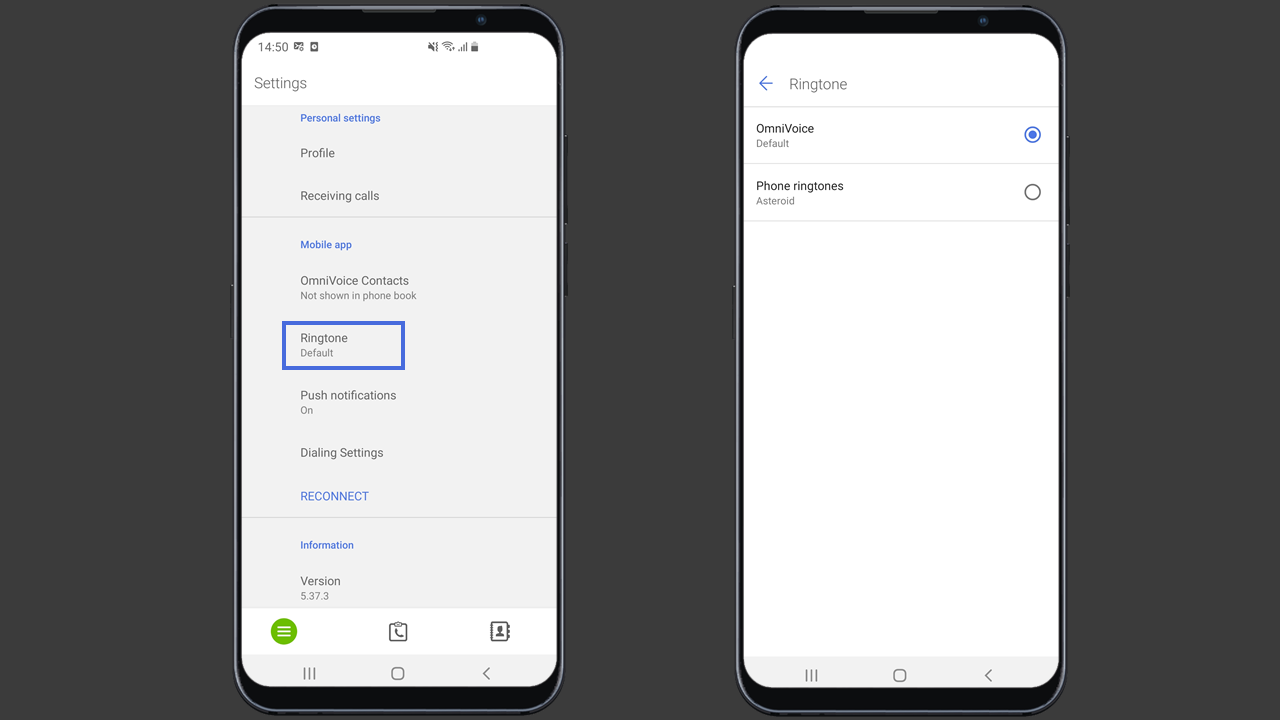 How to set up your push-notifications
Go to Settings – Push Notifications and enable or disable the desired push-notifications.
You can quickly turn Push Notifications on and off, select the Activities you want to be notified about and the business numbers from which to receive notifications (i.e. missed calls, voicemail, and SMS).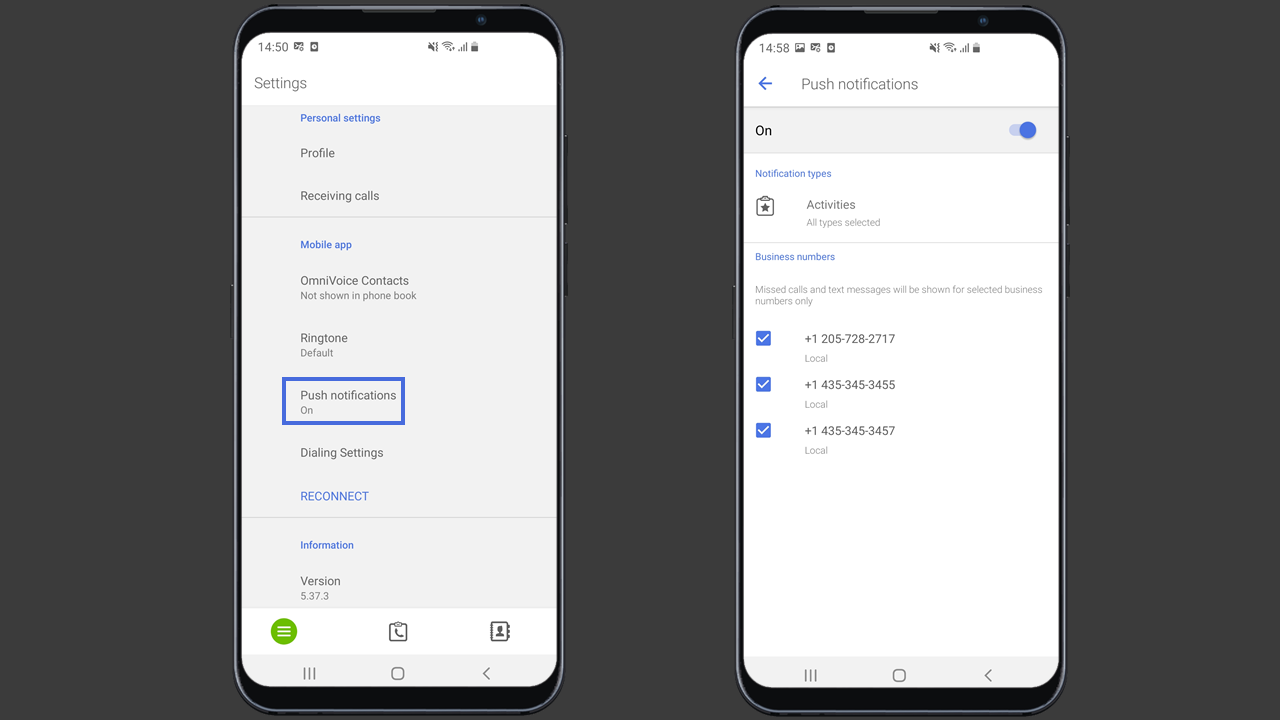 How to change the presence status
Change your Presence Status to Available or Do Not Disturb from your Omnivoice Mobile App. Tap on the green icon in the top left corner and then tap on the Available – Do Not Disturb slide to change your Presence Status. All incoming calls will be handled according to your Answering rules.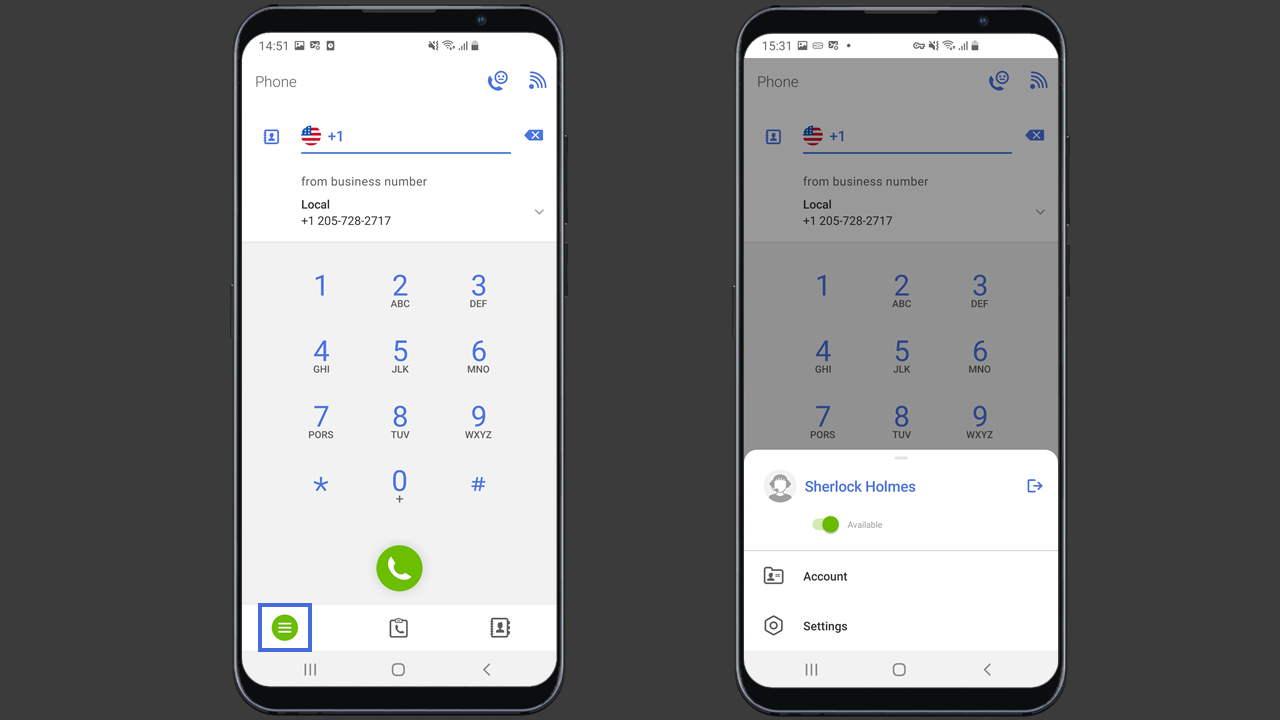 Personal Settings
Using the Omnivoice mobile app you can change your personal settings: your first and last name and the phone number associated with the Mixed Method of handling outbound calls. This number must correspond to the number on the SIM card installed in the phone.
How to listen to voicemail and call records
All calls with call records are marked by a special icon. 
Go to the History section and tap on the call in the list. Go to History – Voicemails to view and listen to your voicemails.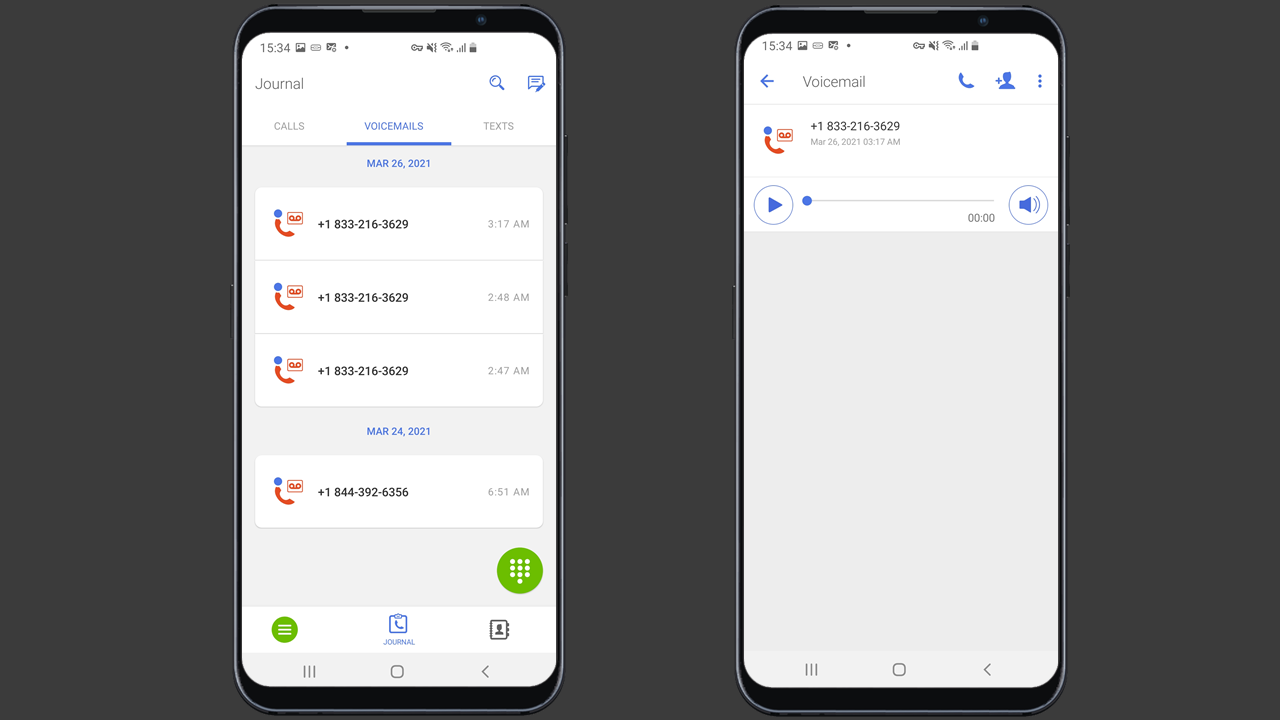 How to block unwanted calls
If you do not want to receive calls from certain numbers, select a call from the list of calls (History – Calls, Voicemails, Texts, Callbacks tab) and select the Block option from the menu. The number will be sent to all blacklists for your call flow. If there are no blacklists, they will be created for all currently existing call flows.
Copy link