Company greetings
When things get busy at work, odds are you won't be able to speak to every single caller immediately upon receiving their call. Even the most efficient of businesses occasionally will need to place people on hold, and callers will have to wait to talk to someone. Omnivoice understands this and has endeavored to make it as easy as possible to upload greetings in as many places as possible for as many situations as possible. Here we'll be going over where in the Omnivoice web panel you can upload those greetings, and how you can do so.
Adding Personal Greeting
We'll start in the Profile section of the web panel, which you can get to by clicking your name (or your account name) and selecting the "Profile" option in the drop-down. Then, click the "Greetings and Media" tab which will appear on your screen. It'll look something like this: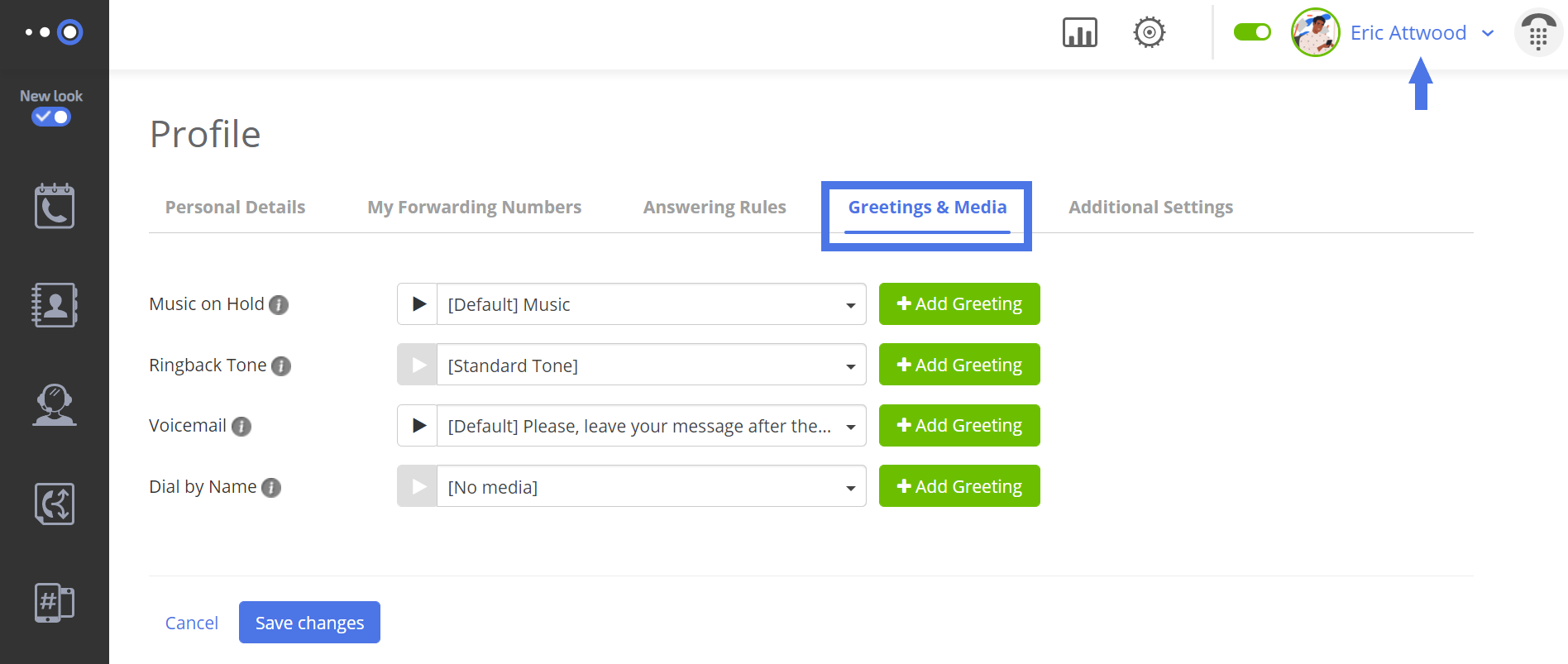 From here you can input all of the necessary Greetings you may need for call flows:
hold music;
ring back tone;
voicemail;
and dial by name.
To do so, click "+Add Greeting" (all of the +Add Greeting buttons take you to the same page).
From there you can upload a file from you computer, record one via your phone, create one in the Voice Studio, or pick from one you've previously uploaded.
Be sure to save changes!
There are a few other sections throughout where you can upload Greetings.
Adding Company Greeting
In the call flow section, for example, toward the bottom of your flow you'll see something like this: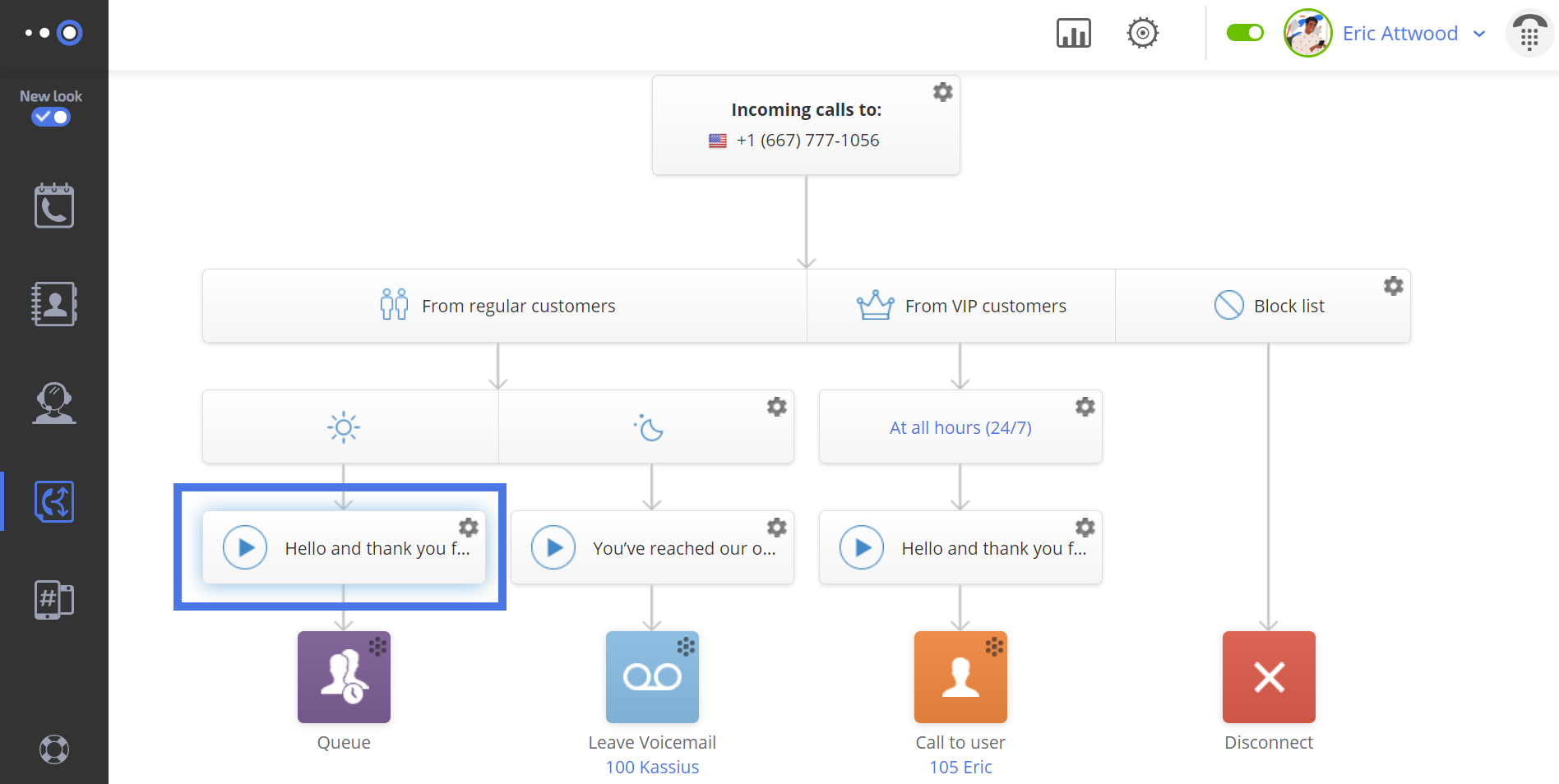 These defaults are what your customer will hear when they call you. Like everything else, you can change that. Clicking the little gears on the top right will take you to the same Greeting upload page which you saw previously (with the options to upload by phone, computer, Voice Studio, or to pick from previously uploaded Greetings).
Once a greeting is uploaded, it's uploaded to your account- so you can access the greeting on any page (and don't have to keep re-uploading said greeting).
Adding Greeting for the Call Recording
Another place you can upload Greetings is in the Numbers and Web Widgets section. This one isn't as obvious at first. Clicking on the section takes you to a list of all of your numbers. Next to your numbers and their call recording status is a little gear. Clicking it takes you to this page: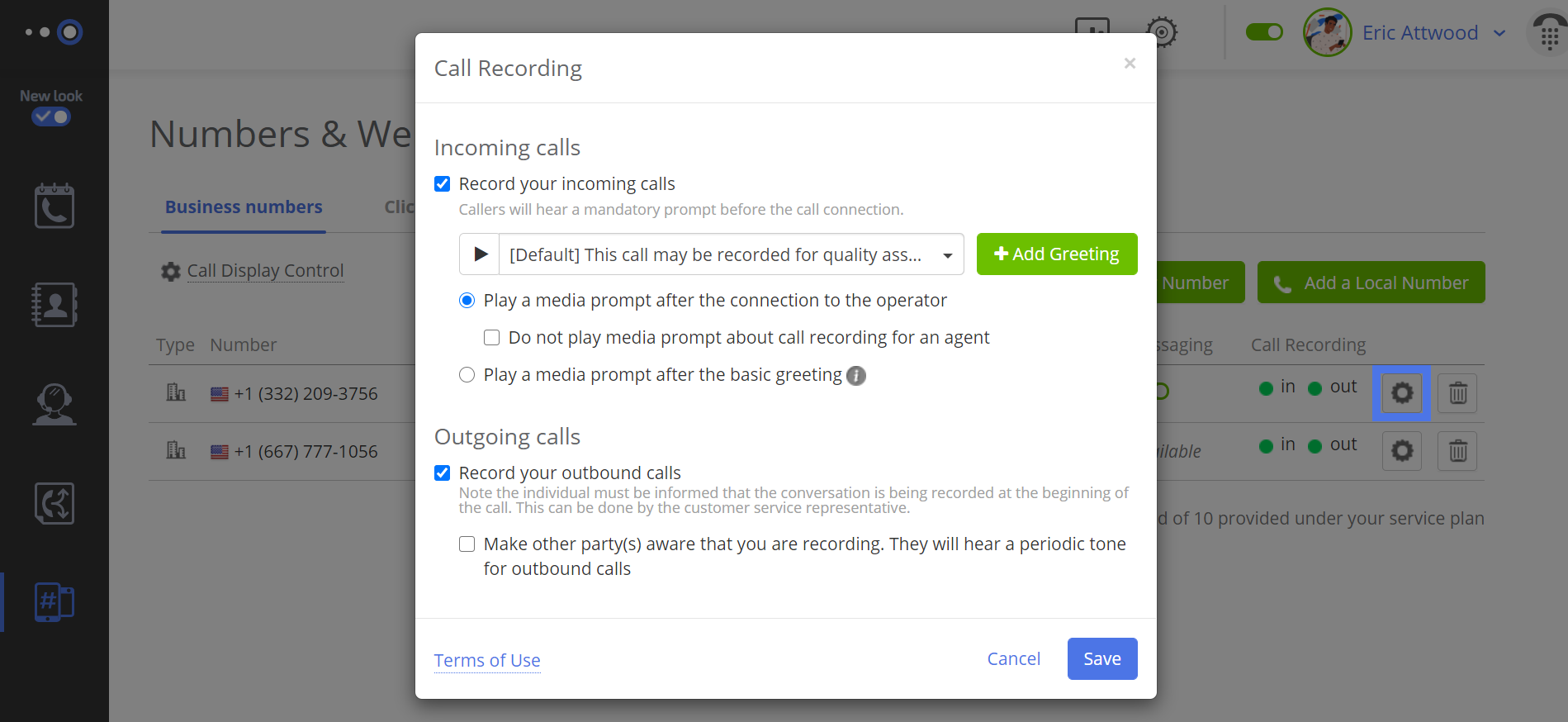 Here you'll be able to make changes to your call recording options. But see that +Add Greeting button?
Yep. That's another place you can upload greetings.
As you can see, Omnivoice has designed a system with you and your team in mind.
Holiday coming up and want to quickly change your auto attendant? Easy. New hours? Easy. New sales? Easy.
With Omnivoice, it's easy.
Copy link