Auto-Attendant
Auto-Attendant, also known as IVR (Interactive Voice Response) allows callers to interact with a phone system via their phone's keypad. You've definitely encountered them before, probably in the form of "Press 1 for Sales, press 2 for Support and press 3 to leave a voicemail."
In this article we cover:
What is IVR?
Interactive Voice Response (IVR) is designed to:
Greet callers
Deliver necessary information
Forward calls to the appropriate extension
Take human error out of the system
How can that help business?
IVR systems for small business help make sure calls coming in to your company get routed fast and efficiently, often without even needing a receptionist (or fewer than you otherwise would).
The systems aren't just cold, lifeless robots either, as you can upload your own personal greetings to show your company's personality and relay important info. This efficiency will give you a professional look and your customers a better calling experience.
How does it work?
The information playback menu starts the call (Press 1 for Sales, Press 2 for Support, etc.), and then forwards it to the proper destination using a routing system.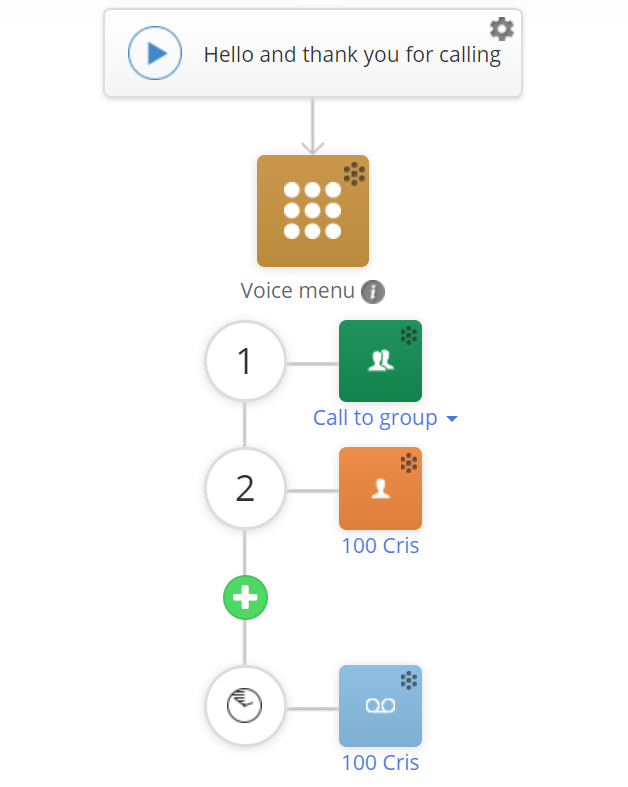 Most IVR systems designed for SMBs also contain a dial-by-name directory. This allows a caller to dial the first name, last name, or full name of the person they need and the system will automatically forward the call there.
If a call goes to a group, the Automated Call Distribution determines who gets the call first using 1 of 4 distribution methods (which you can select and change at any time).
Running multiple auto-attendants on an IVR system will allow you to handle things like:
How to enable IVR
Go to "Call Flows."
Click on the "Actions" block.
Select "Enable Voice Menu."
Record your own greeting for voice menu and a media prompt for an incorrect input.
Select the desired actions for numbers 0 up to 9.
Select an action should a timeout occur (if a caller does nothing for a long time).
Save changes.
Copy link