What is Omnivoice's Deskphone Integration?
Omnivoice deskphone is a process that allows connecting your virtual telephone system to physical deskphone devices. This integration provides a more traditional way of communicating while combining it with the more advanced VoIP features.
How Does It Work?
This integration enables calls to be routed through Omnivoice to your deskphones, allowing you to use all the benefits of VoIP, such as number flexibility and advanced calling features, along with the convenience of using standard phones.
How Do You Set It Up?
To set up this integration, you'll need to connect your deskphones to Omnivoice in the settings after the plan purchase. This may involve configuring SIP settings on the phones to synchronize them with your Omnivoice account.
Omnivoice offers flexibility with a wide range of industry-leading deskphones, including:
Cisco SPA303
Cisco SPA 112
Aastra 6731i
Snom 300
Yealink W52P
Yealink SIP-T19P
Grandstream HT701
GrandStream GXP1610
Note: While Omnivoice does not support analog desk phones, it covers many digital deskphone models.
Enhance Business Communications with Omnivoice's Deskphone Integration
Combining traditional and modern communication methods can greatly improve the success and flexibility of a business's communication system. Omnivoice brings these two together, allowing businesses to use both advanced and traditional communication methods.
Advantages of Integrating Deskphones with Omnivoice:
Uninterrupted Communication: Experience crystal-clear call quality with high-quality deskphones complemented by Omnivoice's features.
Easy Transition: Move effortlessly between deskphone calls and other Omnivoice features, ensuring you never miss a business opportunity: read texts, send MMS, write notes, and check the analytics.
Consistent Business Identity: Use your business number across various devices, maintaining a consistent business presence.
The Other Option: Omnivoice's Softphone
On top of the deskphone feature, Omnivoice also offers a softphone to its users. A softphone is the software that allows making phone calls over the internet using a computer or another device instead of a traditional phone handset.
Omnivoice's Built-in Softphone
Omnivoice features a built-in softphone (also known as a webphone), which enables users to make and receive calls directly from a web browser.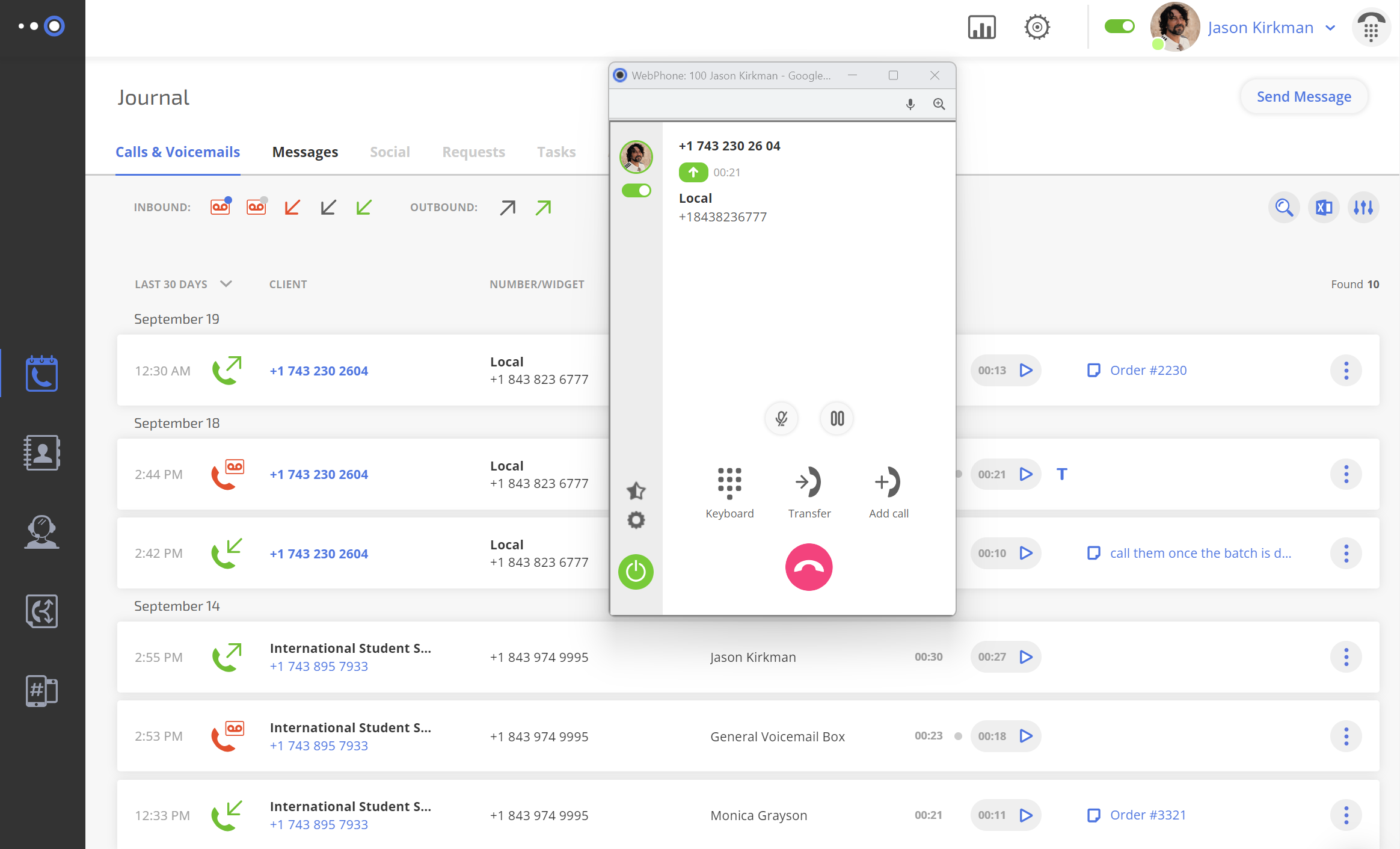 How to Enable It:
The built-in softphone in Omnivoice can be activated through either opening Omnivoice in your browser. Once you have selected and paid for your plan, log into your account, and you will find the dashboard with all the available features, including the dial pad. Users can configure their call preferences and manage them directly from their account, ensuring the ease of use.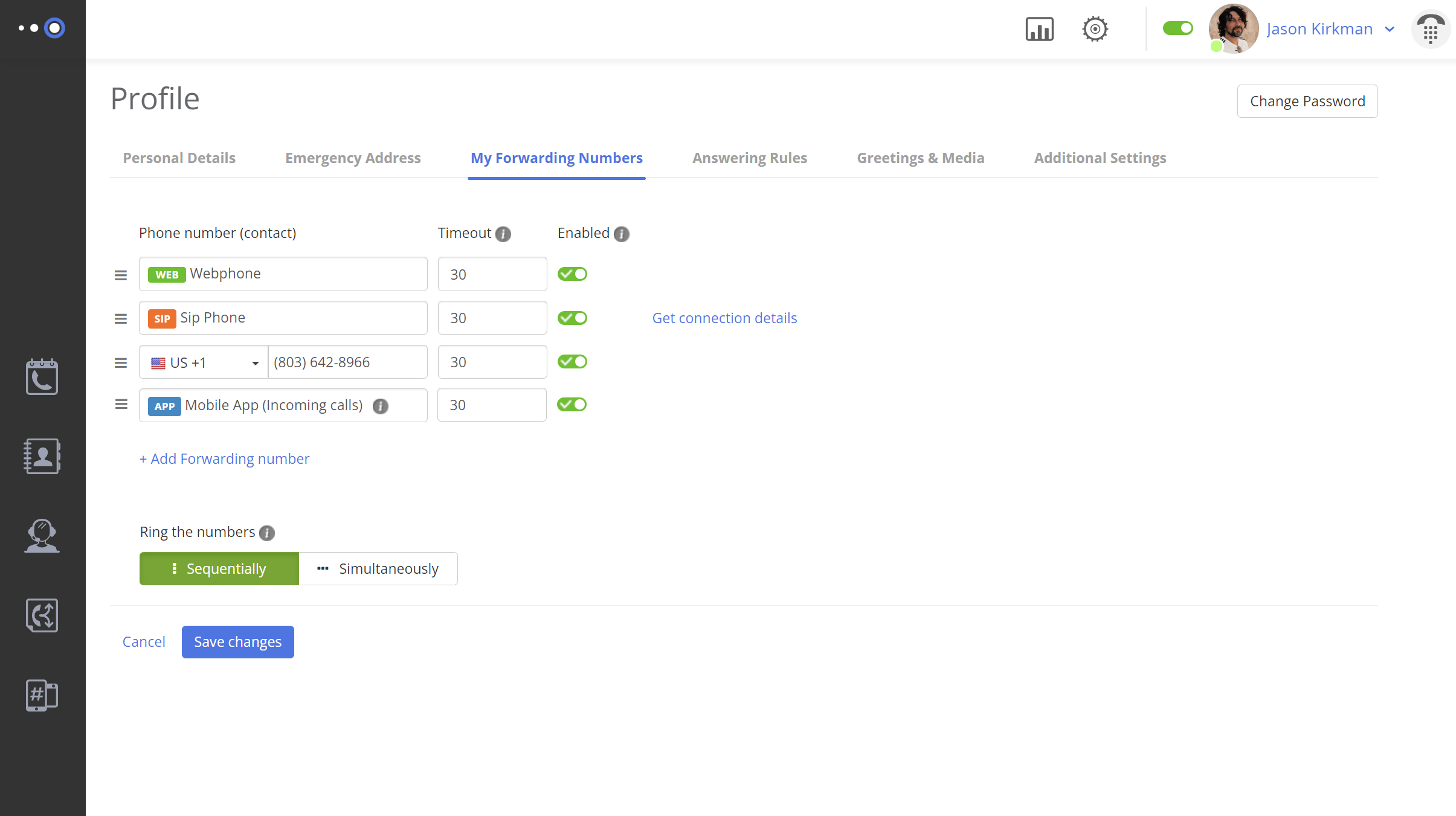 Benefits of Omnivoice's Softphone:
Business Calls on the Go: While deskphones provide stability, Omnivoice's built-in softphone application offers mobility. This web-based dialer is user-friendly, and your softphone number matches your registered Omnivoice business number(s).
Efficient Workflow: Team members can handle business calls without needing to switch between different devices.
Flexibility in Communication: Stay connected with your business, whether traveling, at home, or in various settings.
Centralized Dashboard Access: Manage softphone functionality from the Omnivoice user profile, providing a complete view of all your communications.
Omnivoice effectively combines traditional deskphone communication with modern digital interfaces, offering businesses an integrated and flexible communication solution depending on their specific needs.
What are Toll-Free, Local, and Vanity Numbers?
In the realm of business communication, toll-free, local, and vanity numbers are distinct yet integral elements that play a crucial role in defining a company's image and customer interaction strategy.
Toll-Free Numbers: These are telephone numbers with distinct codes that don't charge the person making the call, instead incurring the cost to the owner of the number (typically a business). They offer a free communication channel for customers, enhancing accessibility and customer service.
Local Numbers: A local number allows a business to have a regional presence, even if it's physically located elsewhere. It boosts the company's local market reach and instills trust in the customer base, giving the impression of a neighborhood business.
Vanity Numbers: Vanity numbers are a type of toll-free or local number, which are personalized to spell out a specific word or phrase (for example, 1-800-FLOWERS). They are often used for marketing purposes due to their ease of recall, significantly enhancing brand recognition.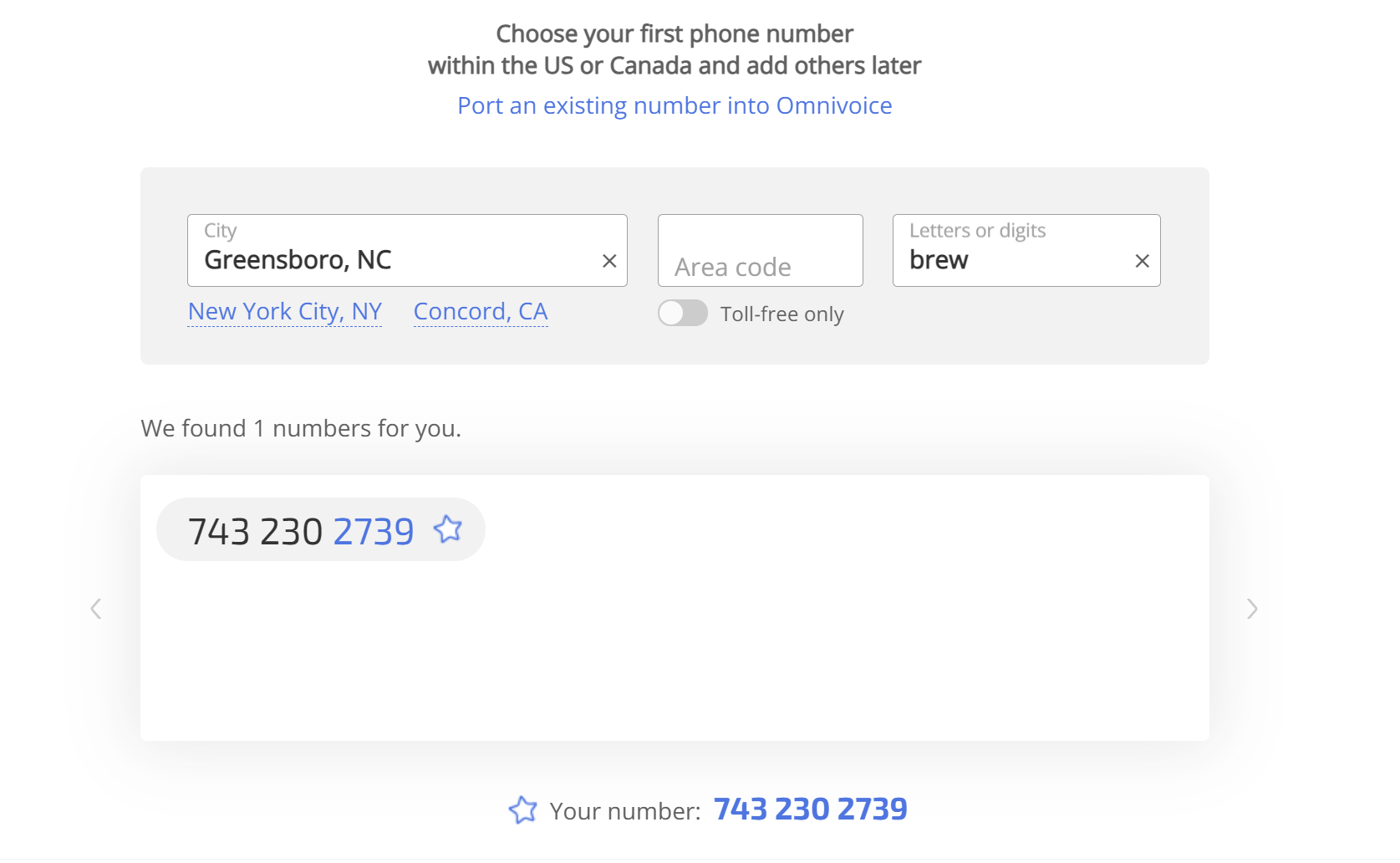 How Do They Work with Omnivoice?
Omnivoice, a leading white label VoIP business phone system, offers these types of numbers as part of its comprehensive telecommunication solutions. Whether you're a small business seeking a local presence, a growing enterprise wanting to provide a free communication channel for customers, or a brand trying to increase recognition, Omnivoice has got you covered.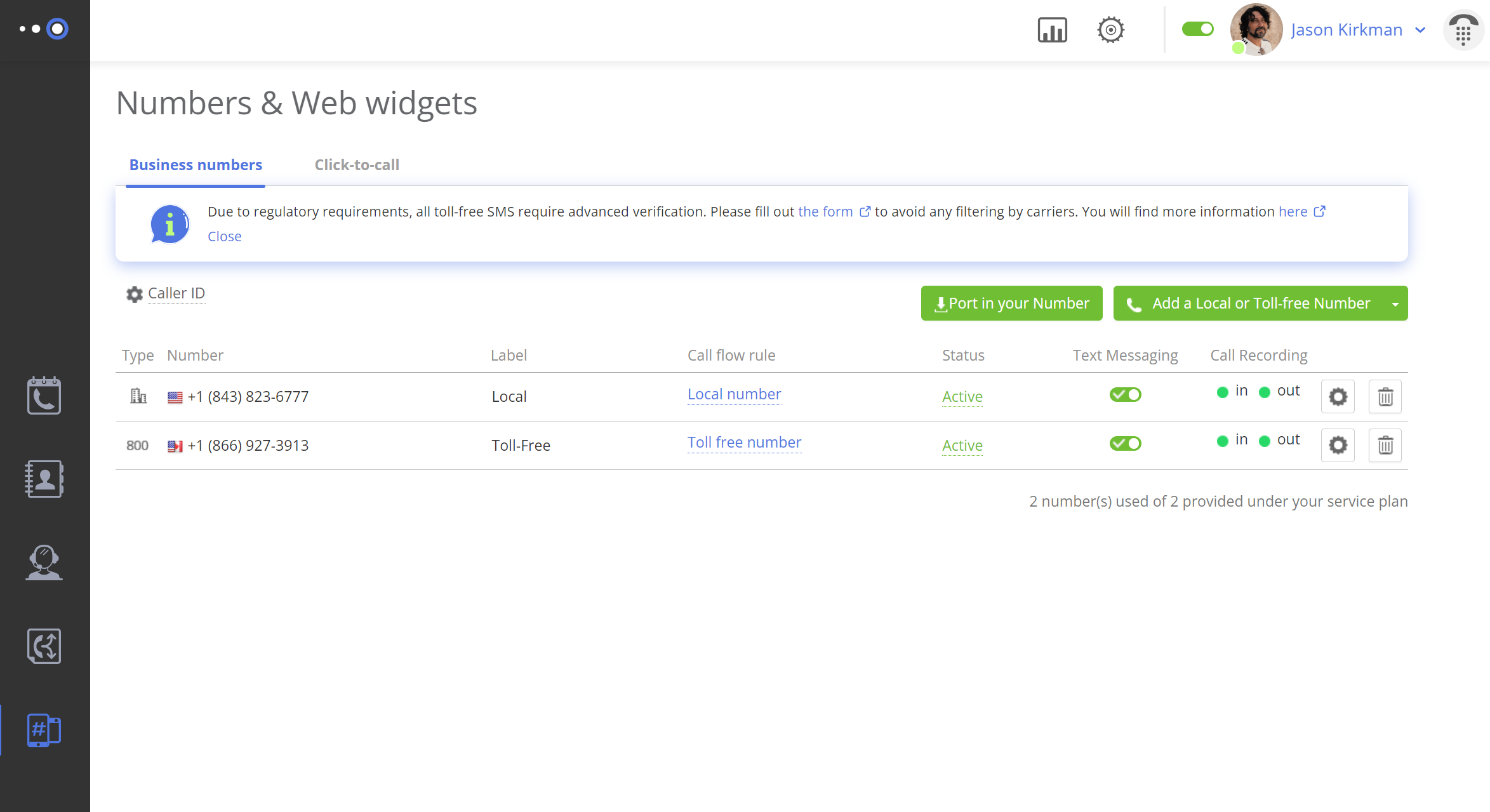 Benefits of Toll-Free, Local, and Vanity Numbers
Implementing toll-free, local, or vanity numbers can bring a wealth of advantages to your business:
Enhanced Customer Service: Toll-free numbers allow customers to reach out to your business without any charge, improving your customer service and accessibility.
Local Market Penetration: With a local number, you can establish a strong presence in your desired markets and build trust among your local customer base.
Brand Recognition: Vanity numbers make your business easy to remember, enhancing your brand recall value and contributing to your marketing efforts.
National and International Presence: A toll-free number can help your business project a national or international presence, even if you're a small or mid-sized company, once you enable the international calling in your account. It is, however, important to note that calling an American or Canadian toll-free number from a different country will most likely result in charges for the caller.
Professional Image: All these number types lend a professional image to your business, helping you stand out in today's competitive business environment.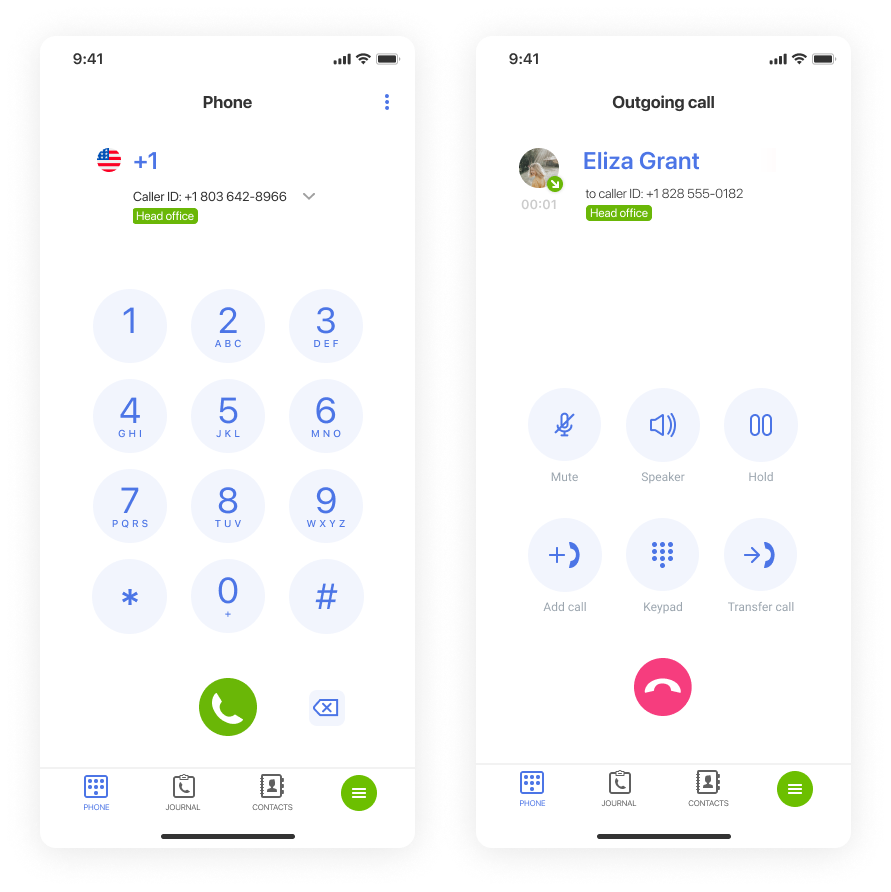 Setting Up Toll-Free, Local, and Vanity Numbers in Omnivoice
Setting up these numbers with Omnivoice is simple:
Sign in to your Omnivoice dashboard and navigate to the 'Numbers' section.
Choose whether you want a new number or to port an existing number.
If you're getting a new number, select between a toll-free, local, or vanity number. For a vanity number, you'll need to input the specific word or phrase you want.
If you're porting a number, follow the instructions provided by Omnivoice to complete the process.
Review your settings and confirm.
In conclusion, adopting toll-free, local, or vanity numbers from Omnivoice can significantly elevate your business's communication strategy. Not only will you offer improved accessibility and service to your customers, but you'll also enhance your brand image, leading to increased recognition and trust. Start your journey with Omnivoice today to reap these benefits!
What are Texts and MMS?
Text messaging, or SMS (Short Message Service), has been a staple in personal and business communication, enabling the exchange of brief text-only messages. MMS (Multimedia Messaging Service), an extension of SMS, allows for the sending of pictures, audio, video, and larger amounts of text.
Texts and MMS with Omnivoice
Omnivoice, a pioneering VoIP provider, introduces a new level of business communication by integrating Texts and MMS. Omnivoice's platform supports the seamless exchange of texts and multimedia messages across your business, enhancing customer engagement and interaction.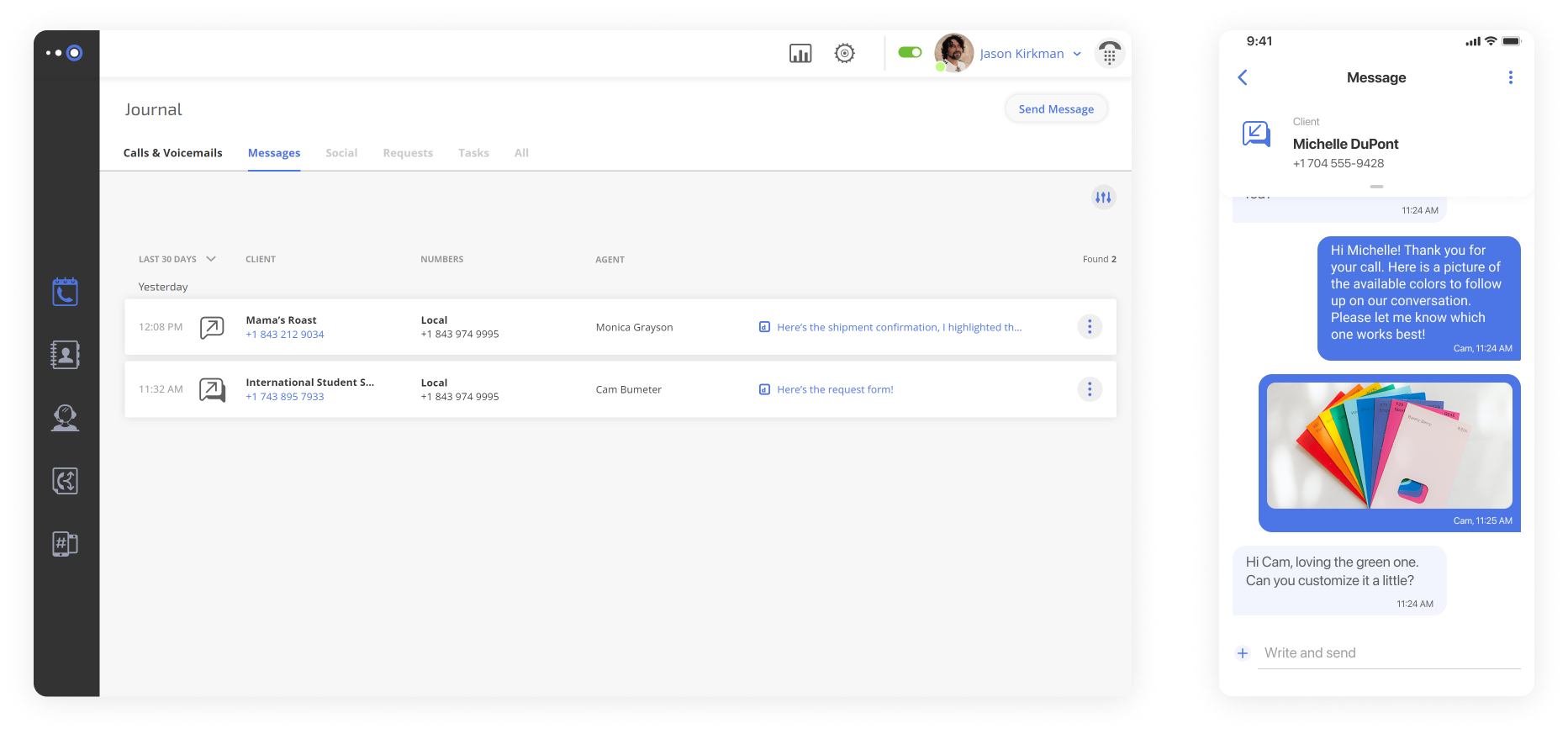 Benefits of Using Texts and MMS in Business
Enhanced Marketing Strategy: With texts and MMS, you can send promotional content, product updates, or event information directly to customers' mobile devices, keeping them engaged and informed.
Improved Customer Service: Texts and MMS provide an additional channel for customer support, offering quick, convenient communication that enhances the customer experience.
Increased Efficiency: Sending and receiving texts & MMS can streamline communication, especially for time-sensitive or urgent matters.
Omnivoice & GDPR Compliance: Omnivoice ensures that its text and MMS features adhere to GDPR standards, prioritizing data privacy and granting users control over their personal information. Every message is protected with stringent security measures in line with EU regulations.
Leveraging Texts and MMS for KPIs and Marketing
Using Texts and MMS can significantly impact key performance indicators (KPIs) in your business, such as customer engagement, conversion rates, and customer satisfaction. By incorporating these channels into your marketing strategies, you can reach a larger audience, send personalized messages, and get immediate responses.
Setting Up Texts and MMS with Omnivoice
Omnivoice makes setting up texts and MMS effortless with its user-friendly interface. It is an add-on feature, at the cost of $15 per 1000 SMS and $5 per 100 MMS.
Contact support@omnivoice.ai and inform the Omnivoice support team about your interest in adding texts and MMS to your current plan.
The support will provide you with the registration forms to fill out.
In order to guarantee message deliverability to the three major US carriers (AT&T, T-Mobile, and Verizon), you will need to register your business with the Campaign Registry (TCR).
Each TCR registration costs $15, one-time payment. The brand application fee is $4 per application, one-time.
After the above steps have been completed, the Omnivoice team will add the texts and/or MMS to your plan.
Feel free to ask for assistance, our support team is always happy to answer any questions and provide further assistance.
Harness the power of text and multimedia messaging with Omnivoice. Start engaging your customers in a more personalized, direct way today.
What are International Numbers?
International numbers allow businesses to establish a presence in countries other than their home base without physically being there. They enable companies to provide a local contact number to customers, suppliers, or partners in a specific foreign market. This localized communication approach can significantly enhance a business's global reach, allowing it to provide better service to international customers and build a robust global brand image.
How do International Numbers Work with Omnivoice?
Omnivoice offers international numbers as part of its broad suite of VoIP telephony services. You can choose local numbers from over 100 countries and regions worldwide, such as a local French or German number, thereby providing your foreign customers a local contact point. Regardless of where your business is physically located, your international customers will appreciate the local familiarity and convenience, making them more likely to reach out.
Benefits of International Numbers
International numbers offer several compelling advantages for businesses:
Global Presence: International numbers can establish your business presence in multiple countries, helping you cultivate a truly global brand.
Customer Convenience: Providing local contact numbers for your international customers enhances their convenience, thereby boosting customer satisfaction and loyalty.
Cost-Efficiency: With international numbers, your business can bypass the need for establishing physical offices in each country, saving on overheads.
Improved Communication: International numbers can significantly streamline your communication with overseas customers, suppliers, or partners.
Local Market Penetration: Having a local number in a foreign market can increase trust among local customers, boosting your business's credibility and penetration in the market.
Setting Up International Numbers with Omnivoice
Setting up international numbers with Omnivoice is a paid add-on feature. The add-on cost is a flat $15 fee per number per month, international calling fees will be applied separately. Follow the steps below to get one for your company:
Log into your Omnivoice and go to the Account tab.
Click on Summary and choose the option to purchase an international number.
After the purchase is complete, navigate to the 'Numbers' section.
Choose the 'International' option, and select your desired country from the list provided.
Specify the city or region in the chosen country, if applicable.
Choose your new international number from the available options.
Confirm your choice and complete the setup process.
By adopting international numbers from Omnivoice, your business can build a strong global brand, provide better service to international customers, and foster global expansion efficiently. Start your Omnivoice journey today to establish your business's global presence!
What is a Webphone?
A webphone is a software-based application that enables users to make calls over the internet directly from their browsers. These calls can connect to traditional landlines or other internet-powered phones. Generally, webphones are compatible with all internet-enabled browsers, though the latest features might need modern browsers for optimal performance.
How Does the Webphone Feature Work with Omnivoice?
Omnivoice's Webphone harnesses the power of Web Real-Time Communication (WebRTC), a built-in browser technology, to facilitate calls over the internet. With no additional plugins or utilities needed, WebRTC allows the streaming of multimedia content, including audio, between different browsers. This sets the stage for efficient Voice over IP (VoIP) calling.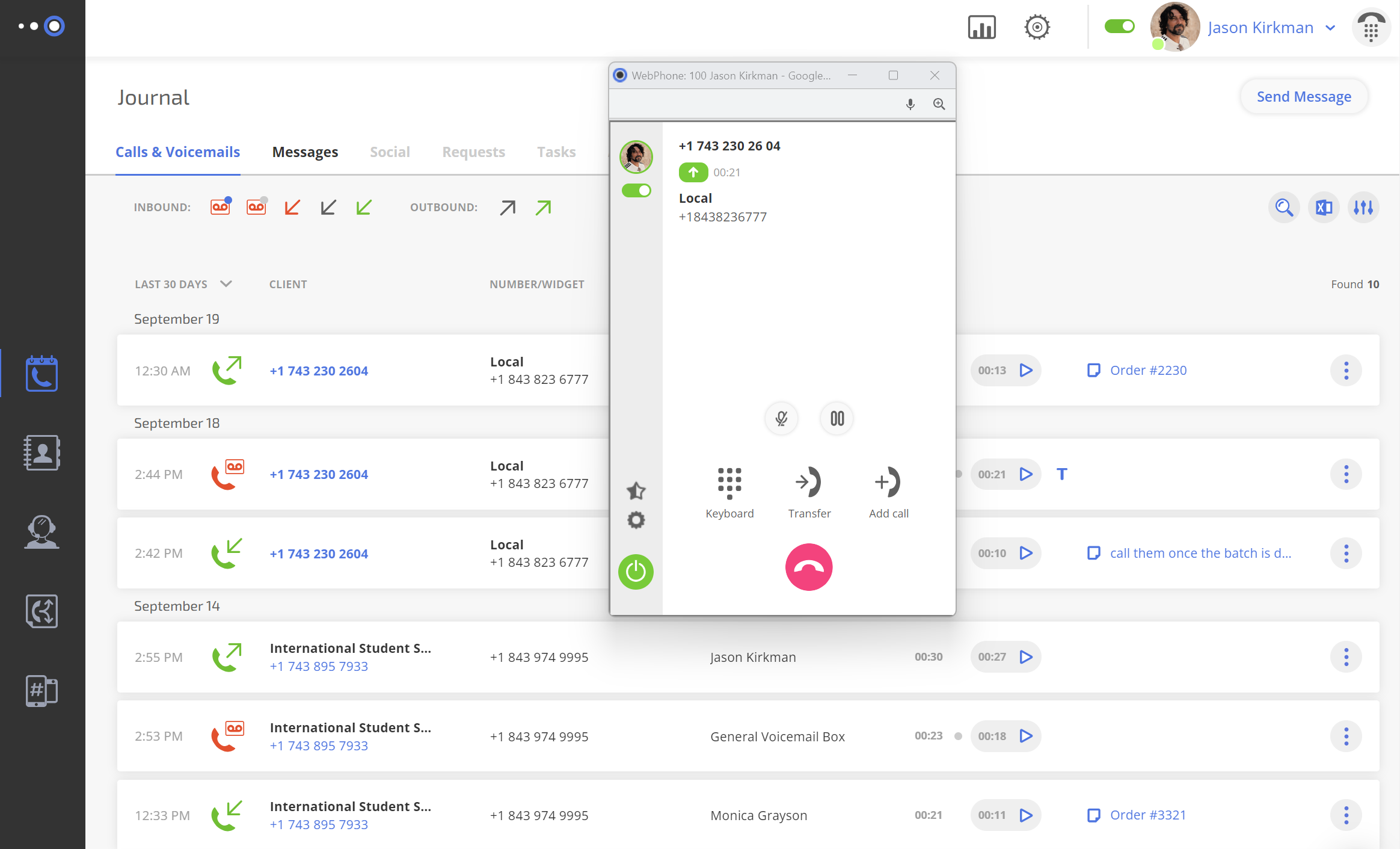 Benefits of Using Omnivoice's Webphone
Ease of Access: No need to download bulky applications or specific software. Simply open your web browser on any device, log into your Omnivoice account, and start making or receiving calls.
Universal Compatibility: Regardless of the device you're using—PC, laptop, smartphone, or tablet—the Omnivoice Webphone is designed to work seamlessly across platforms and operating systems.
On-the-go Communication: As long as you have a stable internet connection, you can access your Omnivoice Webphone from anywhere. This is particularly beneficial for remote teams or business individuals who travel frequently.
Rich Feature Set: Apart from making and receiving calls, you can leverage the Omnivoice Webphone for a host of other functionalities such as call queue, call forwarding, and call monitoring, turning it into a comprehensive communication hub.
Efficiency and Productivity: By consolidating all communication tools into your browser, Omnivoice's Webphone reduces clutter, streamlines your workflows, and boosts overall productivity.
Quality Assurance: Despite being a browser-based tool, the Omnivoice Webphone ensures excellent call clarity, closely mirroring, or even surpassing the quality you'd expect from traditional desk phones.
Cost Savings: With Omnivoice Webphone, you can bypass expensive telephone line installations and costly traditional phone services. All you need is your device and an internet connection to maintain professional business communications.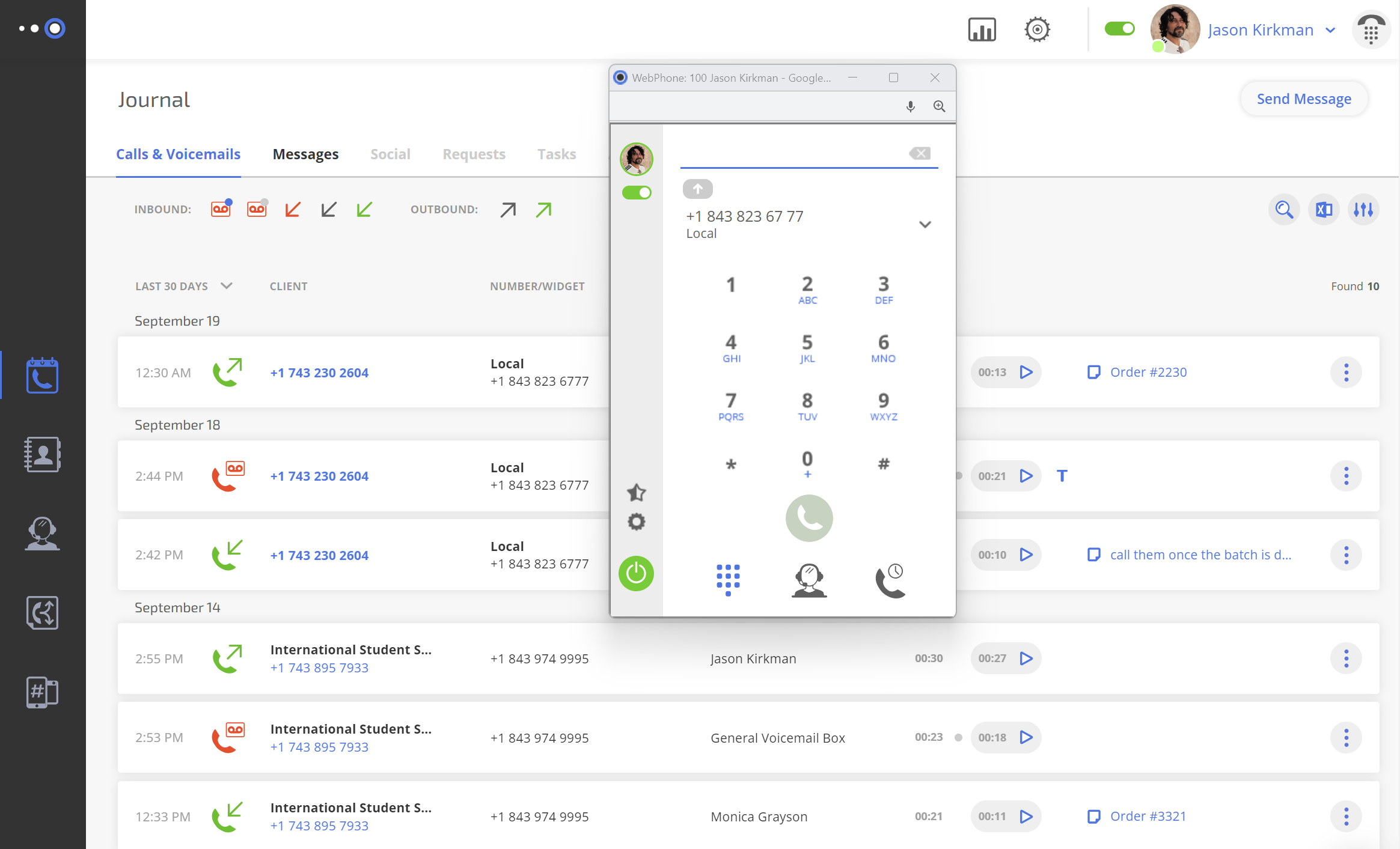 How to Set Up Omnivoice's Webphone
Getting started with Omnivoice's Webphone is an easy process. Follow these steps to begin making calls.
Log into your Omnivoice web panel.
Click the gray button located at the top-right of your screen. This action will open the Webphone as a pop-up.
Ensure the availability slider is set to green. Click on the slider to set it.
Click the red power button located at the bottom-left of the Webphone to activate it.
Enter the telephone number you wish to call.
To initiate a call, click the green phone icon at the bottom of the Webphone. Incoming calls can also be answered by clicking on this green phone icon.
Now, you're ready to utilize Omnivoice's Webphone to streamline your business communication. Whether you're making or receiving calls, connecting with your team, or reaching out to clients, the Webphone equips you with the tools for efficient and flexible communication.
What is Voicemail to Text?
With the aid of advanced AI technologies, Omnivoice's voicemail transcription service is making the most of the world of VoIP telephony. It seamlessly transforms voice messages into digestible text, allowing you to scan and absorb the content at your convenience. This AI-driven approach not only ensures accuracy but also speeds up the transcription process, saving you precious time in business settings.
What Does the Voicemail to Text Feature Look Like in Omnivoice?
Navigate to the Journal section of the Omnivoice web panel, nestled under the Calls and Voicemails tab. Here you will see a comprehensive log of your calls: from inbound to outbound, missed to connected.
Spot unread voicemails following the visual cues – the orange cassette icon. Clicking on it filters the list to display only the unread items.
Each voicemail entry has a 'play' button to listen to the audio and a 'T' icon. Hovering over the 'T' reveals the magic of transcription.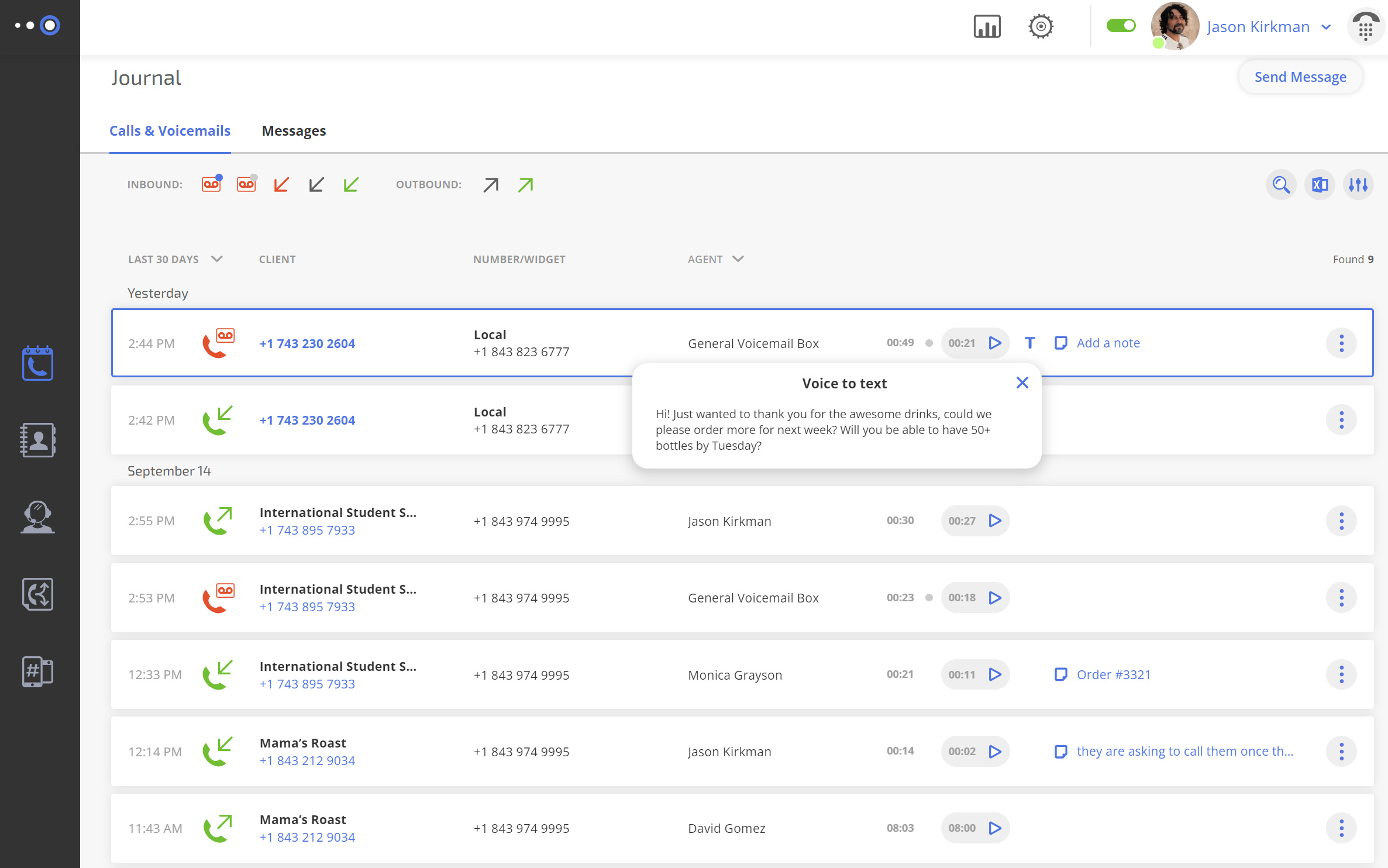 How Does the Voicemail Transcription Service Work?
Thinking about adopting voicemail transcription? Here's a brief rundown of the process:
In Omnivoice's Call Flow section, set up call routing such that unanswered calls divert to voicemail.
When someone leaves a voice message, the system gets to work without any intervention on your part.
Soon after, you'll receive a neatly transcribed version of the voicemail, accessible both via email and the Omnivoice web panel.
Should you opt for it, team members can also be looped in with a copy of the transcription.
Receiving Transcribed Voicemails on Smartphones
While Omnivoice offers a seamless web experience, we understand the mobile-centric world we live in. Thus, Omnivoice's mobile app, available for both Android and iOS, brings voicemail transcriptions right to your smartphone. The process of viewing these on smartphones varies across devices and carriers, but with Omnivoice, the experience remains consistently intuitive and user-friendly.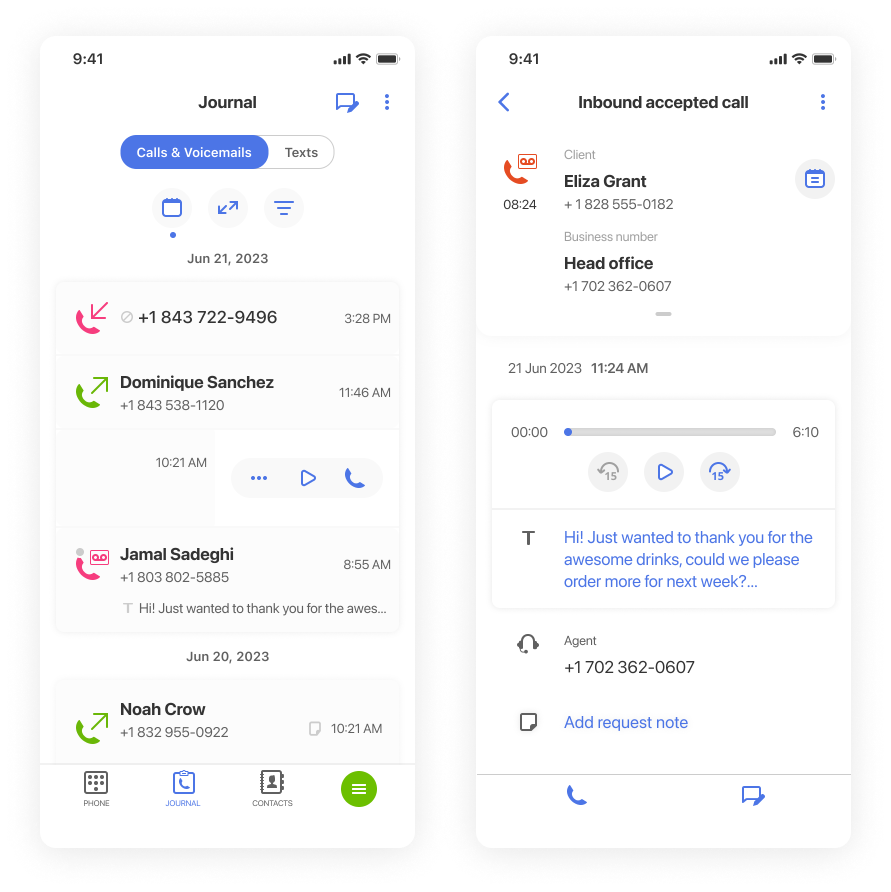 Why Use the Voicemail to Text Message Feature?
Beyond the sheer convenience it offers, voicemail transcription provides unparalleled benefits:
Potential Problems Voicemail Transcription Addresses:
Efficiency in High-Volume Scenarios:
For businesses or individuals inundated with voicemails, sifting through each one can be a daunting task. Voicemail transcription streamlines this process, allowing quick scanning and prioritization of messages.
Accessibility for the Hearing Impaired:
Voicemail traditionally poses a challenge for those with hearing impairments. Transcriptions bridge this gap, making voicemails accessible to a wider range of users.
Conquering Noisy Environments:
Ever tried listening to a voicemail in a bustling café or on a windy street? The ambient noise often overpowers the message. With transcriptions, noisy environments no longer pose a barrier to clear communication.
Eliminating the Guesswork (to an extent):
Voicemail can sometimes be murky territory. Poor call quality, background noises, or just a hurried caller can lead to unclear messages, forcing you to replay them multiple times. With voicemail transcription, the AI-driven process works to give clarity to these voice messages. By converting them into text, you can read and re-read and search through it as needed, ensuring no crucial detail gets missed. There are, however, limitations: if the language is not English, the accent is too thick, or the sound quality is too low, AI might not provide a clear transcription.
Use Case:
Imagine Sarah, a business owner who's constantly in meetings. Receiving a voicemail during a presentation, she discreetly reads the transcribed message, quickly realizing it's a significant business opportunity. Thanks to voicemail transcription, she's able to act immediately after her meeting, securing a lucrative deal.
Helpful Terms to Know About Voicemail Transcription
Transcription: The process of converting voice messages into text.
VoIP: Voice over Internet Protocol, a technology allowing voice communications over the internet.
Call Flow: A predetermined pathway that an incoming call follows, which can be customized in Omnivoice.
Ready to Start Using Voicemail to Text?
Get the top call center experience in communication with Omnivoice's voicemail transcription feature. Don't get drowned in the endless voicemails; instead, read, react, and respond at your own pace. Sign up today!
Introducing Omnivoice's Mobile Apps
Omnivoice's mobile applications, available for both Android and iOS platforms, are the perfect solutions for managing your business communication seamlessly and professionally from your smartphone. By providing a secure and reliable link to your business phone system, Omnivoice's mobile apps empower your team to work effectively from any location, ensuring customer service remains at its best.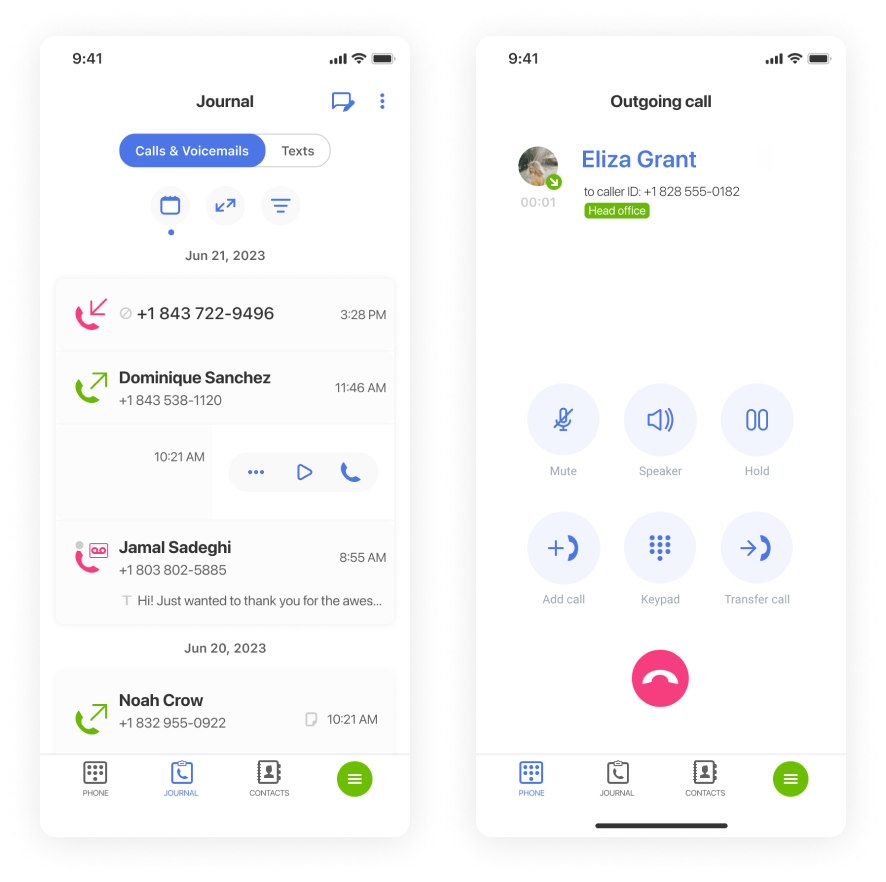 Download the app for iOS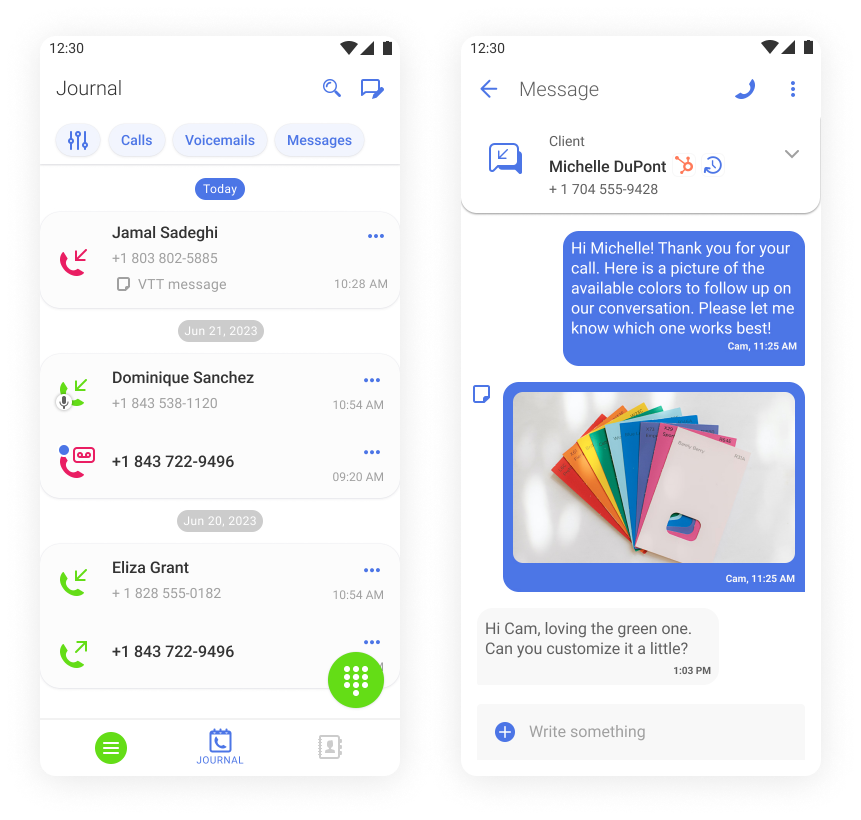 Download the app for Android
Key Features of Omnivoice Mobile Apps
Omnivoice's mobile apps are compact yet packed with features designed to enhance customer service and support from any location:
Make and Receive Business Calls: Use your smartphone to communicate via your Omnivoice business number(s). When you make calls from the mobile app, your business number is displayed as the Caller ID, keeping your personal number private.
Manage Availability Status: Set your availability status to 'Available' or 'Do Not Disturb' with ease.
Notifications: Receive alerts for missed business communications like calls, texts, voicemails, and transcripts for effective follow-ups.
Business Contact Book: Have all your business contacts at your fingertips. You can search, add, and edit contacts on the go.
Customer Communication History: Team members can leave comments on interactions with contacts, and view the communication history with each contact.
Voicemail Transcription: Convert voicemails to text for convenient reading.
Access Call Recordings: If you have automatic call recording set up, you can access company call recordings through the app.
Send and Receive SMS and MMS: Send texts and multimedia messages using your business number.
Manage Your Account: Refill your balance and manage your Omnivoice subscription on the go.
Who Will Benefit From Using Omnivoice's Mobile Apps?
Whether you're a small business owner, a sales executive, a customer service agent, or part of a large team, Omnivoice's mobile apps can greatly enhance your productivity and customer interaction. It's particularly beneficial for those who often work remotely or are on the go, allowing them to stay connected with their team and customers regardless of their location.
Use Case
Consider a sales representative who spends most of their time visiting clients. With the Omnivoice app, they can handle all their calls using their business number, access customer contact information and communication history, schedule follow-ups, and even update their CRM—all from their smartphone. This level of connectivity and functionality ensures they can serve their clients effectively, even when they're out of the office.
Start Using Omnivoice's Apps for Android and iOS Today
If you're ready to take your business communication to the next level, download and start using Omnivoice's mobile apps today. With its range of features and integration capabilities, you can ensure efficient, professional, and seamless communication, regardless of where you or your team are located.
What is Omnivoice's Voicemail feature?
Omnivoice's voicemail feature is a modern voice message system that brings convenience and functionality to your fingertips. Located within the Omnivoice web panel, this feature displays your complete call history, including voice messages. It also provides two filters to segregate read and unread messages, making it easy for you to manage your call records.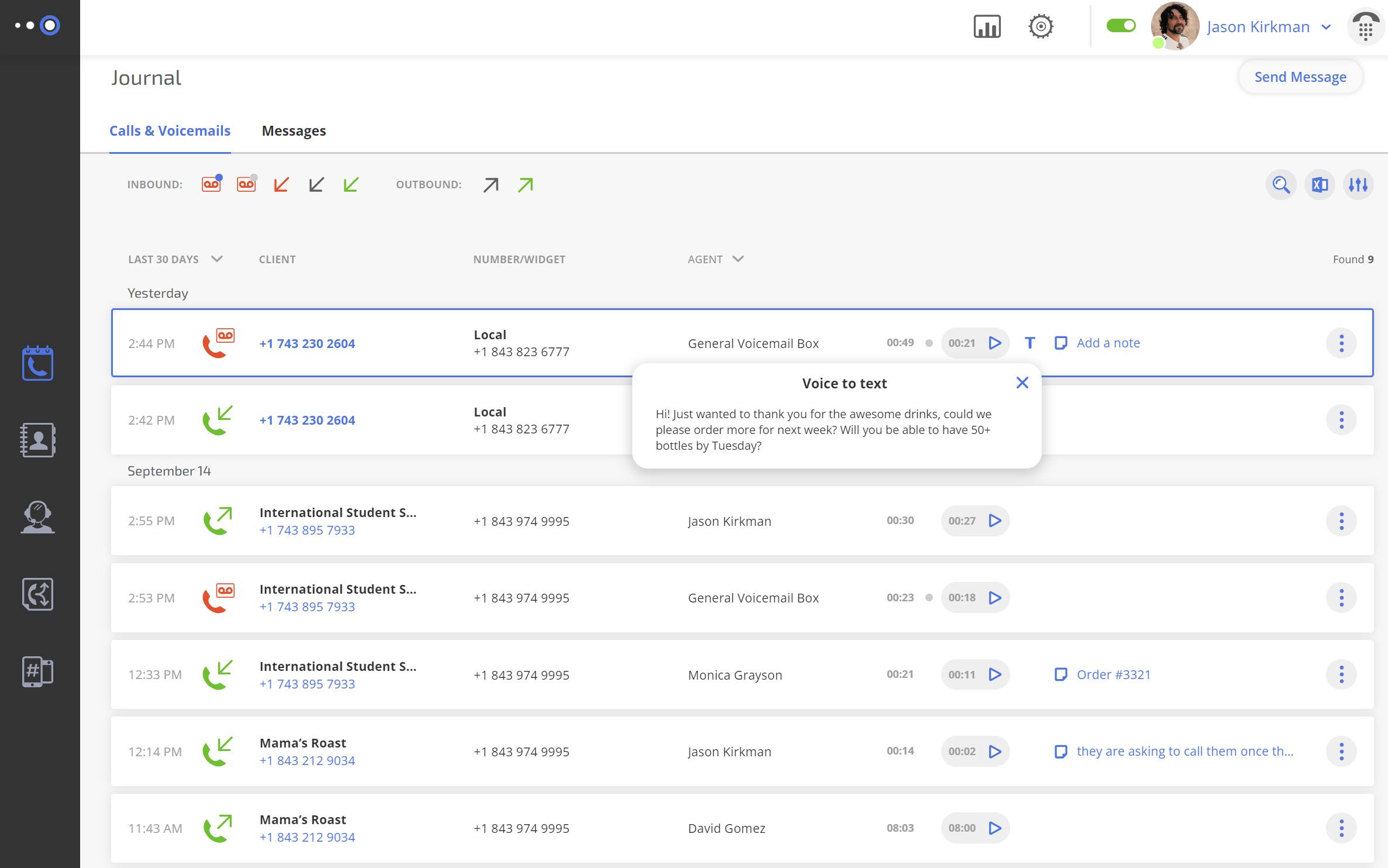 Setting Up Omnivoice's Voicemail
Sign into your Omnivoice web panel.
Navigate to 'Call Flow'.
Set up the flow according to your business needs.
At the end of the setup, click on the gray dots on the bottom square and select the Voicemail feature. Now, all inbound calls will go to your voicemail.
Be sure to click 'Save Changes'.
How Omnivoice's Voicemail Feature Works
Setting up Omnivoice's Voicemail is straightforward. Head to the Omnivoice web panel, navigate to 'Call Flow' and configure the flow as per your requirements. Finally, select the Voicemail feature at the end of your flow setup. Now, all inbound calls to that number will be routed to voicemail.
What is Omnivoice's Voice to Text?
Voice-to-text is a feature that transcribes voice messages into readable text, saving time and allowing you to read messages in scenarios where listening to them isn't feasible. Within the Omnivoice web panel, you'll find this feature under the Calls and Voicemails tab. Hover your cursor over the 'T' symbol next to the voicemail, and the transcription will appear.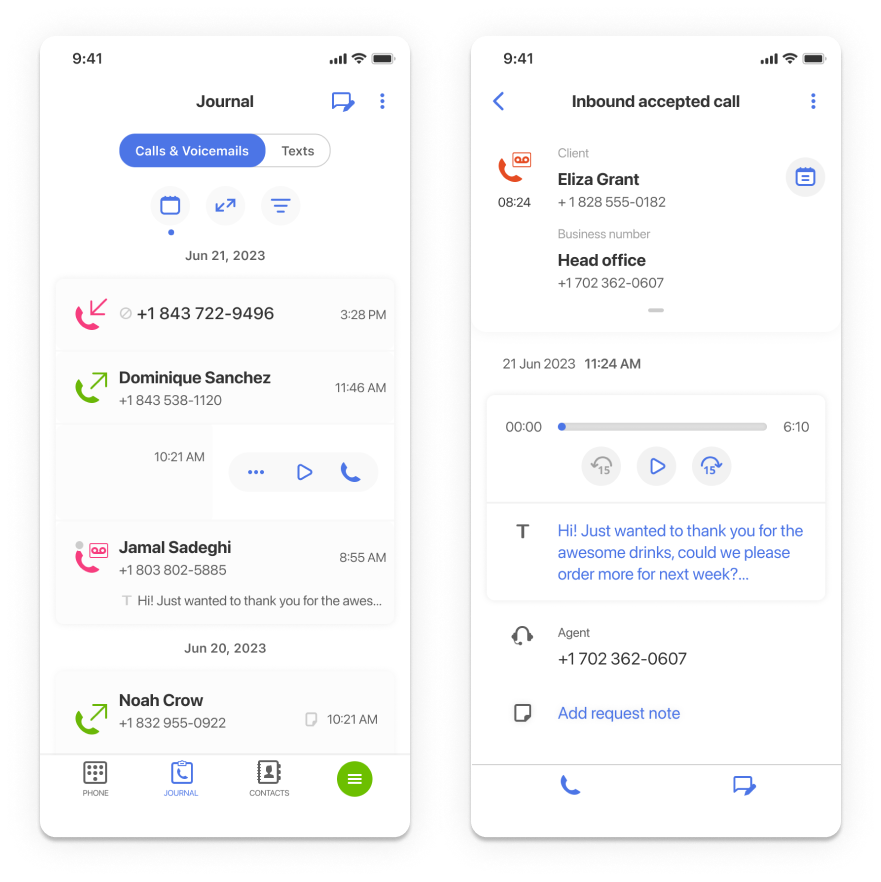 Setting Up Omnivoice's Voice to Text
Access the Omnivoice web panel.
Navigate to the Journal tab and click on the "Unread" cassette tape. This feature is automatically enabled.
To read the message, hover your mouse over the 'T' symbol next to the voicemails you have. A pop-up will appear with the text.
What is Omnivoice's Voicemail to Email Feature?
Voicemail-to-email is a feature that sends an automatic transcription of your voicemails to your designated email address. This not only keeps you updated with your voicemails but also enables you to respond promptly without the need to check the Omnivoice app.
Benefits of Omnivoice's Voicemail Services
The inclusion of voicemail, voice-to-text, and voicemail-to-email in Omnivoice's arsenal brings several advantages:
Accessibility: Easily access your voicemails within the Omnivoice panel, even when you're unable to pick up calls.
Convenience: With voice-to-text, read your voicemails when listening isn't an option.
Prompt Communication: Voicemail-to-email ensures you never miss important messages, allowing you to respond quickly.
GDPR Adherence: In line with the General Data Protection Regulation (GDPR), Omnivoice ensures meticulous management and care of personal information. Through the "Setting up a caller alert" functionality, users are notified about voicemail, reinforcing compliance with data protection standards.
Protected Storage: Gain peace of mind knowing that every voicemail is stored with utmost security, protecting sensitive details and upholding data confidentiality.
Selective Access Control: With Omnivoice's advanced roles and permissions system, you have the capability to limit access to voicemail for specific users. This not only preserves the privacy of crucial discussions but also strengthens your company's internal data protection protocols.
Potential Issues Omnivoice's Voicemail Services Can Solve
Missed Calls: Never miss important details from calls, even when you're unable to pick them up, thanks to the voicemail feature.
Inefficiency: Save time with voice-to-text transcriptions, making it quicker to go through voicemails.
Delayed Responses: With voicemail-to-email, you can respond promptly to your voicemails, even when you can't access the Omnivoice app.
Potential Use Cases
Businesses can use the voicemail feature to store client calls and review them later for better customer service.
Voice-to-text can be invaluable in situations where silence is required, like during meetings or late at night.
Voicemail-to-email can help remote teams stay updated with voicemails, facilitating timely responses and better communication.
What is Omnivoice's Business Contact Book
Omnivoice's Business Contact Book is more than just an address book. It's a centralized hub for all your business contacts, streamlining client information management. It amalgamates all your contacts into a user-friendly interface, eliminating the chaos of tracking scattered information.
How It Works With Omnivoice
The integration of Business Contact Book with Omnivoice is as smooth as an advanced IVR system channeling customer calls. You can import all existing contacts into the Contact Book with one click. Each contact entry can be appended with notes, reminders, and a complete history of interactions, including texts, voicemails, and call recordings.
Benefits of Omnivoice's Business Contact Book
Much like a multi-level IVR system facilitating seamless customer service, the Omnivoice Business Contact Book offers numerous advantages. It boosts team coordination by allowing members to leave comments on each contact, enhancing internal communication. The compilation of all client interactions within the Contact Book helps in keeping track of commitments and promises made, ensuring that your business obligations are met efficiently.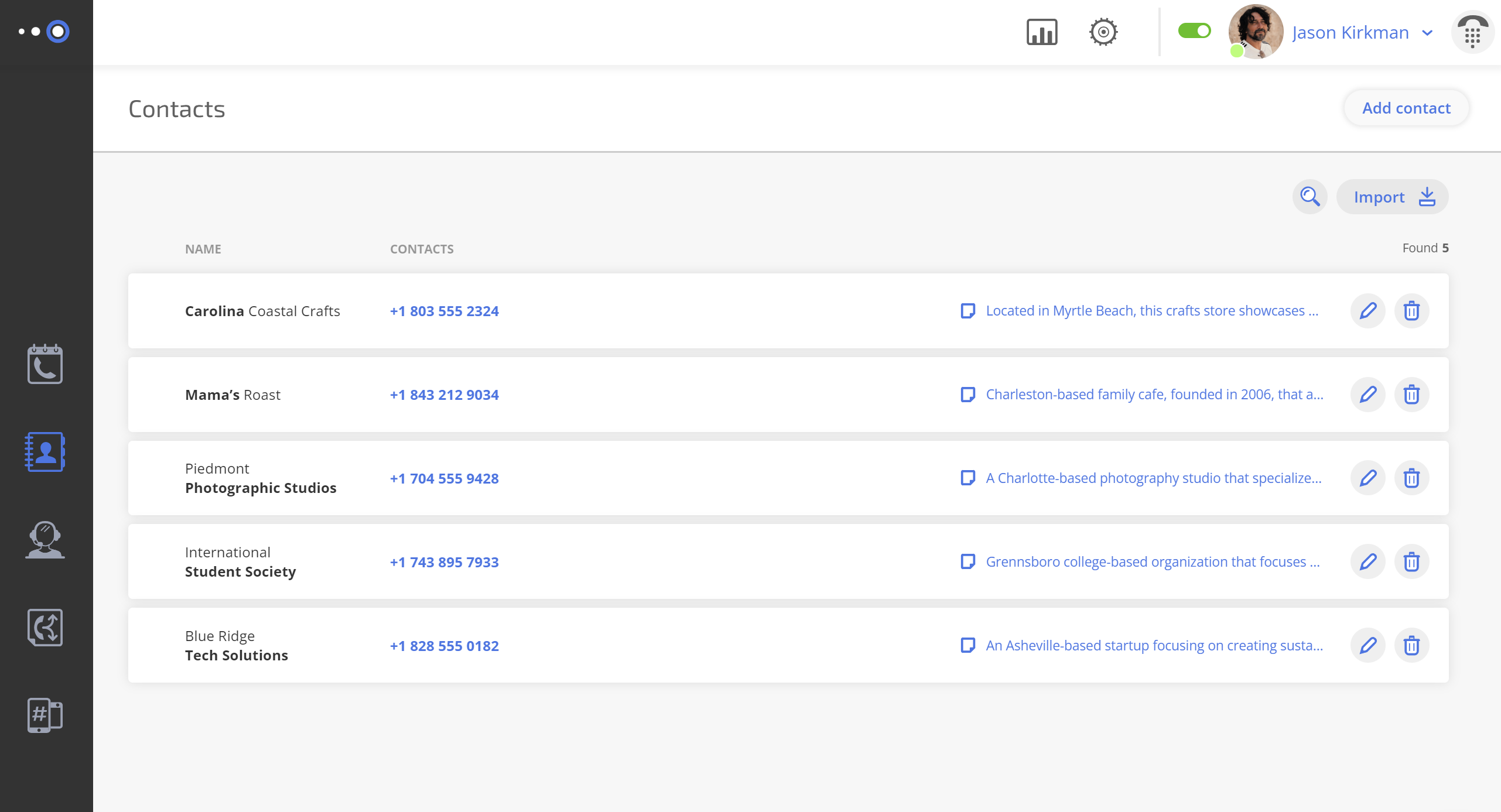 Potential Issues It May Solve
Omnivoice's Business Contact Book is designed to address various challenges businesses often face:
Misplaced contact details: With Omnivoice, you no longer need to worry about lost sticky notes or misplaced contact books. Every contact detail is stored securely in one place.
Lack of team coordination: By allowing team members to leave comments on each contact, the Omnivoice Business Contact Book can significantly improve team coordination and information sharing.
Forgotten commitments: By providing a space for notes and reminders on each contact, it ensures no commitments or promises made to clients are forgotten.
Difficulty in tracking customer interaction history: With the compilation of all client interactions within the Contact Book, tracking past conversations and commitments becomes easier.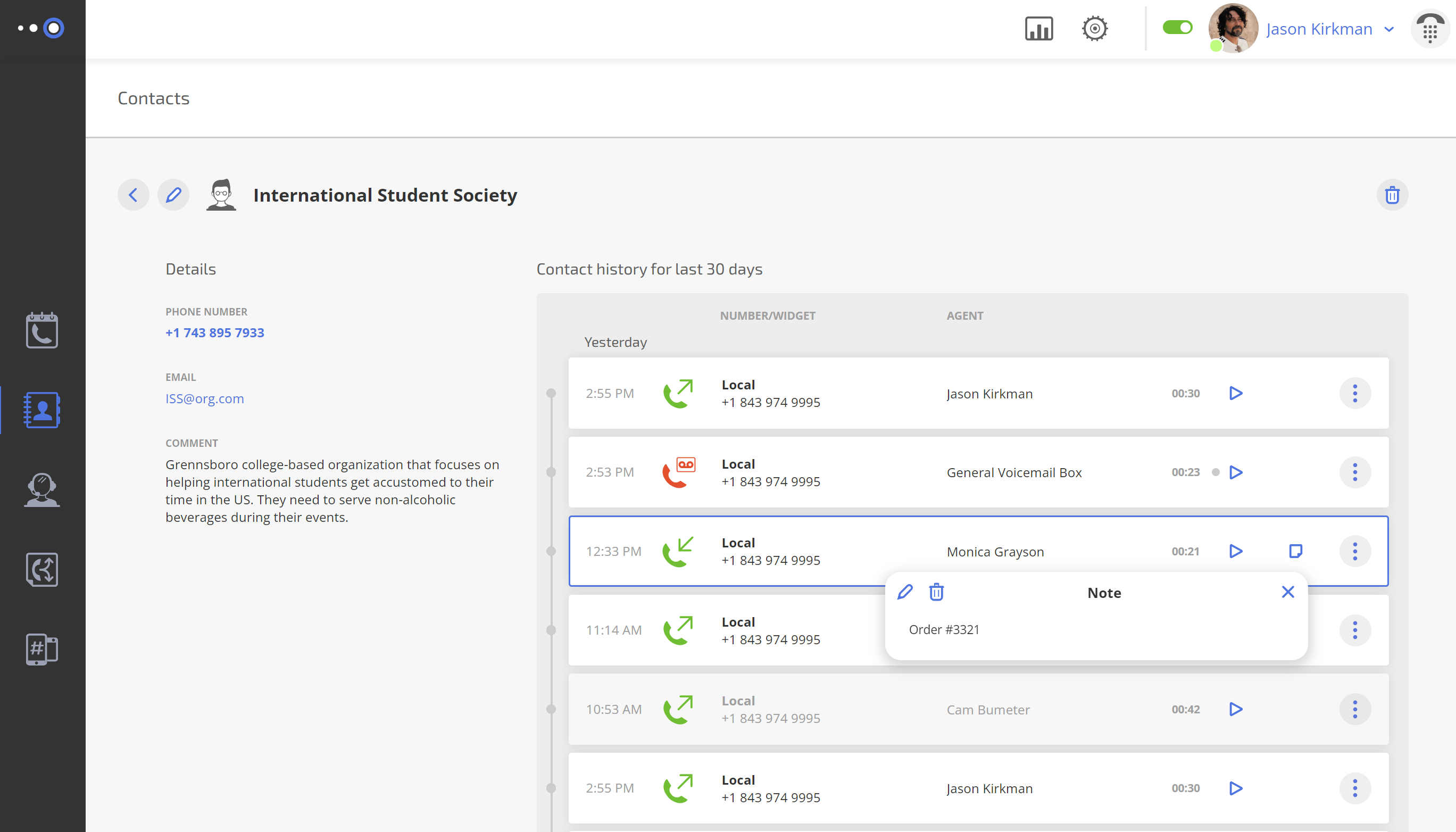 Potential Use Cases
For a business expanding its customer base, Omnivoice's Business Contact Book serves as a one-stop solution to manage the growing list of contacts.
Businesses can utilize the Contact Book's note-keeping feature to keep a record of key interactions, ensuring no crucial information is missed.
With the Contact Book's detailed call history, sales teams can easily track past interactions and tailor their pitches to individual clients, enhancing the probability of closing deals.
Customer service teams can leverage the Contact Book to provide personalized service, fostering better relationships with customers.
In our rapidly advancing, digital era, effective and dependable communication can often be the determining factor between a critical delay and timely assistance. Omnivoice, as an advanced VoIP provider, acknowledges this reality and has seamlessly integrated the E911 feature into its service. This feature is aimed at providing users with instant access to emergency services whenever the need arises.
What is the E911 Feature?
Enhanced 911, also known as E911, is a critical function that should be present in any telecommunication system. It enables users to dial 911 directly from their Omnivoice number, while simultaneously providing emergency dispatchers with the caller's registered location. This means that during times of crisis, help can reach you quickly, even if you're unable to verbally communicate your location.
How E911 Works with Omnivoice
Omnivoice's E911 feature is designed for both immediacy and accuracy. After activating the E911 feature on your Omnivoice account, your registered address is linked to your phone number. Therefore, when you dial 911, the system automatically relays this location information to your local Public Safety Answering Point (PSAP). This capability to directly connect to emergency services via Omnivoice ensures your call for help is not only immediate, but also pinpointed accurately to where assistance is needed.
Benefits of E911 in Omnivoice
Apart from its core function of offering a direct line to emergency services, Omnivoice's E911 feature provides several other benefits:
Easy Setup: Your emergency information will be one of the first things Omnivoice will ask you to enter. E911 is impossible to miss – you will not be able to use Omnivoice unless the emergency information is provided, prioritizing your security at all times.
Safety First: With E911, your location information is immediately available to emergency responders, facilitating a quicker and more efficient response.
Seamless Integration: E911 integrates effortlessly with Omnivoice's other features, providing a comprehensive communication solution.
Reliability: Omnivoice's robust system ensures the E911 feature operates consistently, offering dependable access to emergency services.
Setting Up E911 in Omnivoice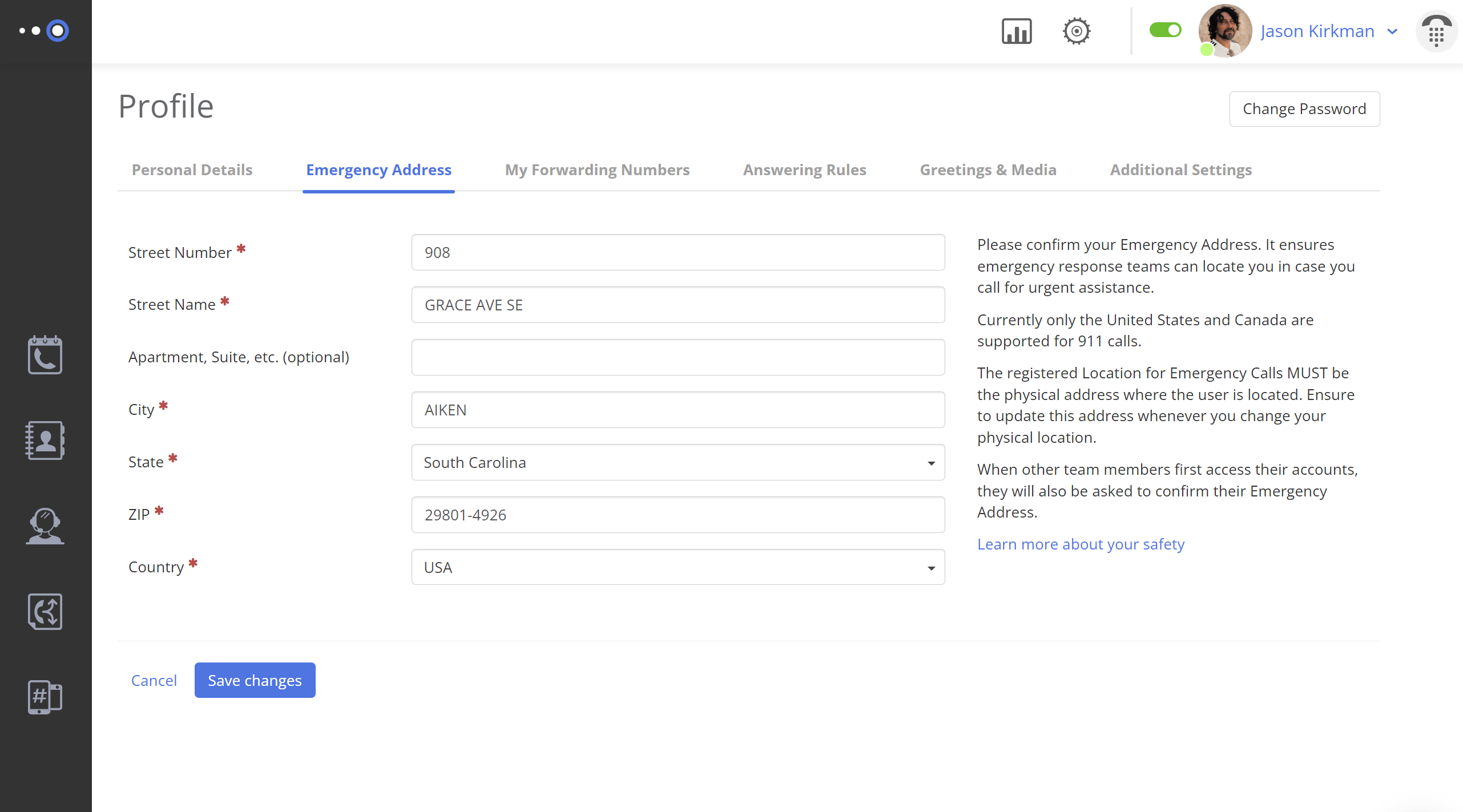 Omnivoice E911 Feature
Open Omnivoice: Launch the Omnivoice service, and sign in to your existing account or register for a new one.
Go to "Profile": In your profile settings, find the "Emergency Address" tab.
Set up your 911 location: Provide the street address, city, and state where you plan to use the service. It's crucial to keep this information accurate and current.
Verify your address: Double-check the correctness of your Service Address during setup, and update it whenever there are changes to your location or VoIP number transfers.
Know the limitations: Stay informed about situations when the emergency service may not function, such as during Internet or power disruptions, suspension of your account, or when making calls outside of the United States or Canada.
Double-check: Use the number 933 to ensure your emergency address is accurately displayed for emergency service operators. Do not use the 911 number for this test; it is solely reserved for real emergencies.
Omnivoice's E911 Feature: A Critical Addition to Your Communications
In today's digital world, it's essential to utilize technology to ensure safety. Omnivoice's E911 feature serves as a testament to this, providing a critical link between you and emergency services. Whether you're a small business owner, an entrepreneur, or an individual user, the E911 feature in Omnivoice offers you the peace of mind that help is only a dial away.